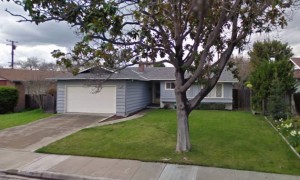 We are currently in the process of getting this home ready to be placed on the market.  Updating the kitchen and bathrooms and giving it a new modern feel.  More importantly however, this home is located in a great Santa Clara neighborhood know for its quality of homes.  For those of you who are not familiar with the Killarney Farms neighborhood it is a great location in Santa Clara near Lawrence and Monroe.
The development was completed in the late 50's by Lacey & White.  These are well constructed homes with post and pier foundations which make them extremely sturdy especially in Santa Clara where expansive soils are very prevalent.  The homes have various floor plans a majority of which are 3 bedroom 2 bath and vary from 1,100 sqft to 1,700 sqft.
This particular unit is a smaller 3 bedroom 2 bath unit.  It has around 1,100 sqft. of living are and a 6,300 sqft. lot.  Its located on one of the most quiet streets in the neighborhood.  If you are looking for a well built home in a good neighborhood consider look in Killarney Farms.