Classic Ranch Style Home Exteriors
Open Living and Dining Room
Trademark to Bowers Crest homes is the spacious living room featuring a wood-burning fireplace and dining combination with bedrooms in the back of the home. Unique to Bowers Crest is the attached garage through the galley kitchen, which many tracks of this size home do not feature.
Back and Side Yards
Bowers Crest homes feature a side patio and backyard. It's one of the few tracks of homes this size that features a sliding glass door to the exterior.
Bowers Crest is a small development near Wilcox High School and along Calabazas Creek. The development consists of about 400 homes. Mainly 3 bedroom 2 bath homes with a few 3 bedroom 1 bath homes. There is one predominant floor plan with varying elevations. The original homes are 1078 Sq. Ft. and are situated on 5,000 Sq. Ft. Lots. Some of the lots reach 5,500 along Santa Maria Ave. and San Juan Ave. The home has a functional floor plan with a well-proportioned living room, a galley kitchen, and good sized dining area. Bedrooms are average in size, with the 3rd bedroom being a bit on the small side and master bedroom features his and  her sliding door closets and an en-suite bathroom. The homes feature attached 2 car garages, wood-burning fireplaces, and sliding glass doors to the back patio. 
Bowers Crest Market & Listings
Get Your Bower's Crest Home's Value
Homes We Have Sold in Bower's Crest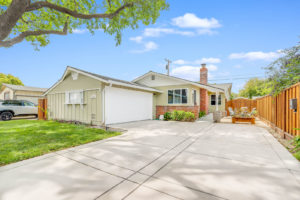 Wonderfully-maintained and updated home nestled in Bowers Crest neighborhood features a bright living room and dining area, beautiful landscaping, and high-quality upgrades throughout. Galley kitchen
Single Family Home
Bedrooms: 3
Bathrooms: 2
Size: 1,078 Sq. Ft.
The Bowers Crest Tract has one predominant floor plan (see image below).  This floor plan will have different elevations and the garage can vary from a front entry or side entry.  In certain locations of the neighborhood where the streets curve, there are 3 bedroom 1 bath homes with 1 car garages.  These floor plans are located at the end of Ventura Place and San Antonio Place, but there are some located on Machado and one on Francis Ave.  When the tract was originally built it was built in stages. The last stage was the homes located on San Juan Ave.  Those homes have completely different floorplans and resemble more the Bowers Park homes.  There are a few homes at the end of Machado bordering Monroe that are also unique and do not correspond to any floorplans.