The Maywood neighborhood or tract, located in Santa Clara's 95051 zip code, is a one-of-a-kind development of Mid-Century Modern architecture. These homes, designed by renowned home builder John Mackay in the mid-1950s, are known as "Eichler Homes" because of their low-pitched gable roofs, spacious open interiors, and floor-to-ceiling windows. Maywood homes include well-designed 3-bedroom, 2-bath floor plans and approximately 1250 Sq. Ft. of living space on generously sized 6000 Sq. Ft. lots. The Maywood tract, located in the southern part of Santa Clara off Woodhams and Pruneridge, consists of many blocks and offers a distinct living experience.
This desirable neighborhood is located within the Cupertino School District, providing access to excellent schools such as Eisenhower Elementary, Hyde Middle School, and Cupertino High School.
Maywood

Market & Listings
Homes We Have Sold in Maywood/Fairmede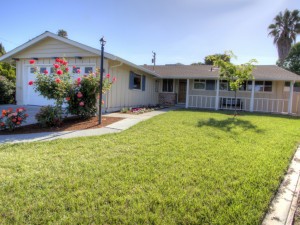 Spacious home featuring Cupertino Schools. Well maintained 4 bedroom home has a private office space that can be used as a 5th bedroom, and an
Single Family Homes
Bedrooms: 2 – 3
Bathrooms: 2 – 3
Size: 1,000 Sq. Ft. – 2,000+ Sq. Ft.
The Maywood development offers a variety of floor plan elevations ranging from 2 – 3 bedrooms and 2 – 3 bath homes ranging from 1,000 to over 2000 Sq. Ft. and are all located on 6,000+ Sq. Ft. lots.
Have a question? Interested in setting an appointment to talk about your real estate plans?  Contact me today.