Sunny Brae is a beautiful tract of homes developed in 1949 by the local Passeta Builders.  The neighborhood encompasses around 580 homes and is centrally located near the Santa Clara TownCenter Shopping center. It's a good-sized development by Santa Clara standards. Originally featuring 3 bedroom homes with either 1 or 1.5 baths.  There are a few different floorplans with attached or detached one or two-car garages. The original homes ranged from 1000-1200 sq. ft and were situated on 5500-6000 sq. ft. lots. You can find some larger lots in various locations. The neighborhood borders the San Tomas expressway to the west, El Camino and the Santa Clara Town Center Shopping center to the north, and Scott Blvd to the east. Over time, many homeowners have expanded their Sunny Brae homes, so you will find a wide array of custom homes in this neighborhood, both single and two-story levels. The neighborhood school is Haman Elementary, and there is Steve Carli park right nearby, both are within walking distance.
Best Things About Sunnybrae:
One of the best things about the Sunnybrae neighborhood is its proximity to the Santa Clara town center shopping center.  The shopping center has been renovated and features a Target and Sprouts supermarket, as well as a number of restaurants, cafes, salons, and businesses. The neighborhood is quiet and pleasant to walk around and very established.  Although the homes are tiny, the reasonably sized lots allow for expansion possibilities.
Sunny Brae Market & Listings
Homes We Have Sold in Sunny Brae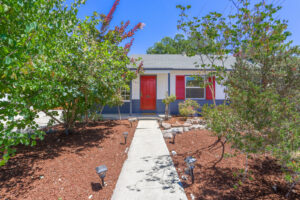 Situated on a quiet street, 963 Sunlite Drive is an expanded 3bd/2ba home which features a separate living room and family room, open kitchen and
Single Family Homes
Bedrooms: 2 – 3
Bathrooms: 1 – 3
Size: 1,200 Sq. Ft. – 1,500 Sq. Ft.
Homes in Sunny Brae range in size from 1000 – 1600 square feet and have 3 bedrooms and 1 – 2 bathrooms. The original homes ranged in size from 1000 to 1200 square feet and were built on lots ranging in size from 5500 to 6000 square feet. Larger lots can be found in a variety of locations.