Killarney Farms (North), also referred to as Killarney Farms No. 1, is a Santa Clara neighborhood located west of Calabazas Boulevard, between Monroe Street and Cabrillo Avenue. The neighborhood was first constructed in 1957 by the developers Lacey and White, Inc. It is a large development by Santa Clara standards, with approximately 430 single-family houses. The community offers a variety of floor plans and elevations, with houses ranging in size from approximately 1100 square feet to over 2000 square feet for larger models, all on 6000 square foot lots. Popular floor plans include various single-level 3-bedroom floor plans and one notable 4-bedroom floor plan with a living room but no separate family rooms.
Best Things About Killarney Farms (North)
Killarney Farms (North) Map
Killarney Farms (North) Market & Listings
Homes We Have Sold in Killarney Farms (North)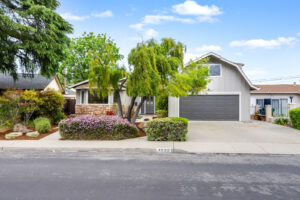 Beautifully updated home with sprawling floor plan situated on a quiet street in the desirable Killarney Farms neighborhood. The home features 3 spacious bedrooms (w/
Killarney Farms Photo Gallery
Killarney Farms Information and Little Known Facts
There are actually 2 Killarney Farms neighborhoods in Santa Clara built by the same developer, Lacy and White and features similar floorplans, elevations, and many of the characteristics that make Killarney Farms unique.
The first Killarney Farms development was built near Wilcox High School, and was developed in the late 1950's. The second Killarney Farms development was built near Pruneridge and Pomery. Some changes were made to some floor plans, and some designs were eliminated while others were added.
Some of the fireplaces in Killarney Farms feature large stones. Legend has it that the builder, Lacey & White had procured them from a storage lot in San Francisco where they had been stored since being removed from San Francisco roads after the great 1906 earthquake.
Killarney Farms (North) Floor Plans
Single Family Homes
Bedrooms: 3 – 4
Bathrooms: 2 – 3
Size: 1,100 Sq. Ft. – 2,000+ Sq. Ft. 
Killarney Farms offers a variety of three and four-bedroom floor plans ranging in size from 1100 square feet to around 1700 square feet for the most extensive floor plan, a two-story home with a barn-style roof. The houses are built on 6000 square foot lots.
The single-level, three-bedroom, two-bath, 1440 square feet floor plan has a side entrance, is frequently found on corner lots in the neighborhood, is unusual but well-liked and has a living room and a separate family room.