The Monastery Gardens neighborhood is located in Santa Clara's 95050 zip code and is made up of two distinct housing tracts: El Camino Manor and Monastery Gardens. Interestingly enough, the neighborhood is named after the Carmelite Monastery on Benton and Lincoln. The Monastery Gardens neighborhood, located at Scott Boulevard and El Camino, was established in the late 1940s and early 1950s and contains around 350 single-family homes. It was one of the first housing tracts built in Santa Clara after World War II. The majority of the homes began as 2 or 3-bedroom 1-bath homes with attached or detached 1 or 2-car garages, all situated on lots ranging in size from about 5,000 to over 6,000 square feet. The homes feature raised foundations, well-proportioned bedrooms and living areas, and traditional California bungalow style architecture, with many properties having been renovated and modified throughout the years.
The neighborhood falls within the enrollment boundaries of Haman Elementary, Buchser Middle, and Santa Clara High School.
Best Thing About Monastery Gardens
Monastery Gardens (North)
Map
Monastery Gardens Market & Listings
Homes We Have Sold in Monastery Gardens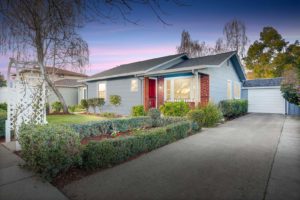 Wonderful opportunity to own a charming home w/ Craftsman-style details & beautiful landscaping in the heart of Santa Clara. Located in desirable Monastery Gardens neighborhood,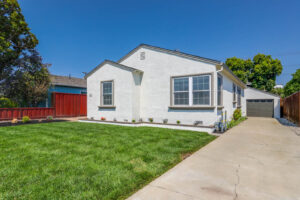 Bright and updated home located in the desirable Monastery Gardens neighborhood walking distance to Santa Clara Town Center, a few blocks from downtown, and with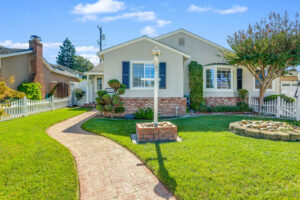 Charming updated home with a central location in desirable Monastery Gardens neighborhood within walking distance to Santa Clara Town Center, a few blocks from downtown,
Monastery Gardens Insights
Monastery Gardens Floor Plans
Single Family Homes
Bedrooms: 2 – 3
Bathrooms: 1 – 2
Size: 1,000 Sq. Ft. – 2,000+ Sq. Ft. 
The Monastery Gardens development offers a variety of floor plan elevations ranging from 2 – 3 bedrooms and 1 – 2 bath homes ranging from 1,000 to over 2000 Sq. Ft. and are all located on 5,000 to over 6,000 square feet lots.
Have a question? Interested in setting an appointment to talk about your real estate plans?  Contact me today.