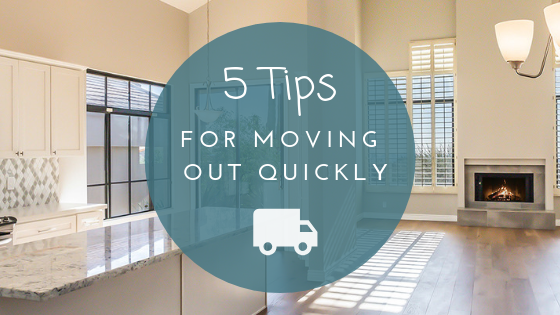 Not everyone decides how and when they move to a new home. Sometimes the mortgage payment has become too much to bear. Or maybe you've found a perfect new home with the catch that you have to move in immediately. Perhaps you've found a motivated cash buyer that can move quickly? In any case, it's easy to get caught up in the excitement and lose sight of the practical concerns that come with the process of moving out.
While promptly moving out of your home is not an easy task, the key is being systematic as you proceed from start to finish. Whether you need to pack up all your things on your own or call a moving company to help you out, here are 5 tips to make the move swiftly and efficiently.
1. Assemble the Right Moving Materials
Because moving can be a long and arduous process, the more prepared you are at the beginning, the better. Begin by gathering most of the supplies needed to pack your things, including:
A variety of moving boxes
Packing tape
Permanent marker
Packing materials, such as bubble wrap or old newspapers
2. Designate Your Packing Area
As you hurry to pack, you may simply find it tempting to shove things into boxes in no particular manner. This approach doesn't really save time, and a house full of clutter only adds to the stress, let alone the mess you'll have when it comes time to unpack in your new home.
By choosing a specific room or area to do all your packing, you can avoid the mess and help yourself stay organized.
3. Stay Organized as you Pack
Begin by packing your seldom used items first and gradually work your way to things you use on a more daily basis. Suitcases or anything with drawers can be filled up with clothes, towels, and blankets. These apparatuses help minimize the number of boxes or bags you need and use up the extra space. For clothes on hangers, keep them on their racks and lay them flat in your vehicle. They can be hung up right away in your new place.
A permanent marker is a useful, often overlooked, tool when it comes to staying organized. Use the permanent marker to write the name of the room and roughly what's inside each box, also try to keep each room's boxes together. Doing this will make it much easier to get everything unpacked and in its place once you reach your new destination.
You can also consider this an appropriate time to throw away old things you may not need anymore. Remember, the fewer things you bring with you, the more space you have in your new home.
Try these 3 best practices to speed up packing and unpacking:
Use color-coded tape to keep the boxes straight and make it easy to know where each box goes when you move. Select a different color for the boxes you pack in each room of the home.
Save money on packing materials by using towels, pillowcases, and other linens to wrap breakable items.
Keep an easily accessible bag, suitcase, or container with you during the entire move that contains your essentials like your toothbrush, clean clothes, medications, and other useful items.
4. Don't Forget to Clean and Repair
When you are moving out in a rush, you can forget to clean the home. However, failing to clean your home properly before you move out can cause more headaches, especially if you are selling the home.
Before scheduling a closing, an inspector will go through your home to look for issues and repairs the buyer wants fixed before you leave. Some of the smaller items commonly listed in this report can include:
Small holes, scratches, and dents in the walls
Cracks in the outer surface of the home
Stains on the wall or carpet surface
Between the inspection and close, the buyer will perform a final walkthrough to see if all the issues brought up in the inspection are resolved. If the seller comes to find issues that aren't resolved, or there is trash or unwanted items throughout the house, they can ask their agent to delay the closing until the home meets their satisfaction.
The importance of cleaning applies to renters as well. By failing to leave a home clean, renters can face long-term consequences. In addition to holding onto the security deposit, landlords that believe they need more money to clean or fix damages left behind can take further legal action and attempt to have the amount owed placed on your credit report.
5. Have a Plan for Moving Day
The day of the move can be hectic, which is why it's essential to have a plan. As long as you know what you should be doing next, you won't be in a panic. Even if you hire professionals to do the work, a schedule will help you stay on track and meet your deadline for moving out.
If you are using a moving company, contact them beforehand to double check when they'll arrive. If you are moving, call as many friends and family as you can and ask them to help you out (*note – this is a good time to cash in on all your favors.)
Find or rent a dolly if you are loading the moving truck yourself, otherwise large furniture and heavy boxes will be a pain. Also, begin packing the truck from the front and stacking as high as you can initially. Then, start working your way backwards while building your moving piles from the ground up.
Getting out of your home quickly can seem stressful, and the truth is that it will be. While that is often the case, by planning in advance and staying organized you can rest assured that you get through it and onto your new home.