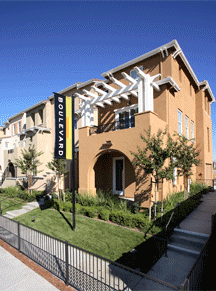 Shea homes has resumed development on their Boulevard town home project project in Santa Clara. After leaving the project dormant for almost a year they have opened up their sales center and resumed construction. This is one of many new town home developments in the Santa Clara and Sunnyvale areas that are available.
I visited the new Santa Clara town home development a few months ago to take a look at the product. Being familiar with the area I remember the site when it was previously Underwriter's Laboratory which occupied the current location. Although its not my favorite location in Santa Clara, I will admit that their are some advantages. Its very close to El Camino, Mervyn's Plaza and other shopping. Unfortunately the Albertsons and Mervyns are now gone, but there remains other shopping and conveniences near buy especially for the ethnic Indian community.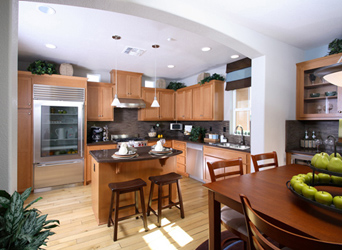 The stlye of town homes is tri-level with a rear garage, no back yard or limited private out door space. Similar to which Shea built in Rivermark a few years back. However, the floorplans are different. They offer three floor plans named after famous jazz musicians; Armstrong, Ellington, and Coltrane.
The Boulevard Town Homes are quite versatile and would work for different individuals and life styles. The Armstrong has a first level bedroom and a top floor bedroom, with living area and kitchen on the middle floor. The Ellington has a downstairs den, which my experience is usually not as utilized, and two upstairs suites and again living area and kitchen in the middle floor. The Coltrane, has a 2-3 bedroom configuration. Two upstairs bedrooms and a first floor bedroom, with living and kitchen on the middle floor. Each have well designed living and kitchen areas. Bathrooms are not as large as their Rivermark counterparts but functional of course.
Don't fall for the lavishly decorated models, those come at an upgraded price and your unit is not likely to look anything like that. Kitchen amenities are fine, with different styles to choose from, interior of the cabinets are still melamine. Another nice feature is the garages are all two car side by side, which make it very convenient and do not hamper resale like their tandem counterparts. And now that they have dropped their prices about 10 percent, it makes for a better deal. Amenities are simple, which I feel most prefer. A small park or plaza type area in the middle of the development, no pool or clubhouse but that will keep the HOA low, and I'm sure that's more of what the homeowners are looking for. I would give the overall development a B- citing mostly location as a drawback and still feel price and incentives should be higher.