There's a remarkable difference between what your house looks like day to day and what your house looks like when you have people coming over. Day to day it's probably got some clothes on the floor, toothpaste in the sink, bread left out in the counter, kids' toys spread everywhere, dishes in the dishrack. When you throw a party you sweep all of that away like it was never there, light a few candles, buy fresh cut flowers for every room, and place an orchid on the bathroom sink.
When you prepare your home for sale, you have to live like you're throwing that fancy party every day, and you've got to up the stakes. While your friends understand that you didn't have time to vacuum or clean stray marks off the wall, prospective buyers won't. An un-prepped home gives them the leverage to negotiate the price down, make a lowball offer, or walk away from your single family home altogether.
If that's not enough to persuade you to take the time to prepare your home, look at the upside: Consumer Reports says there's a 3-5% value increase for a clean, decluttered house.
Preparing your house for sale isn't an easy process: there's a lot to be done and you have to do it on top of working, spending time with friends and family, and doing all of the other small tasks you need to take care of. Preparing your home is worth it though, and we're here to help you.
We put together an all-inclusive guide for how to declutter, then clean, prepare the exterior of the home, and then stage and show the house.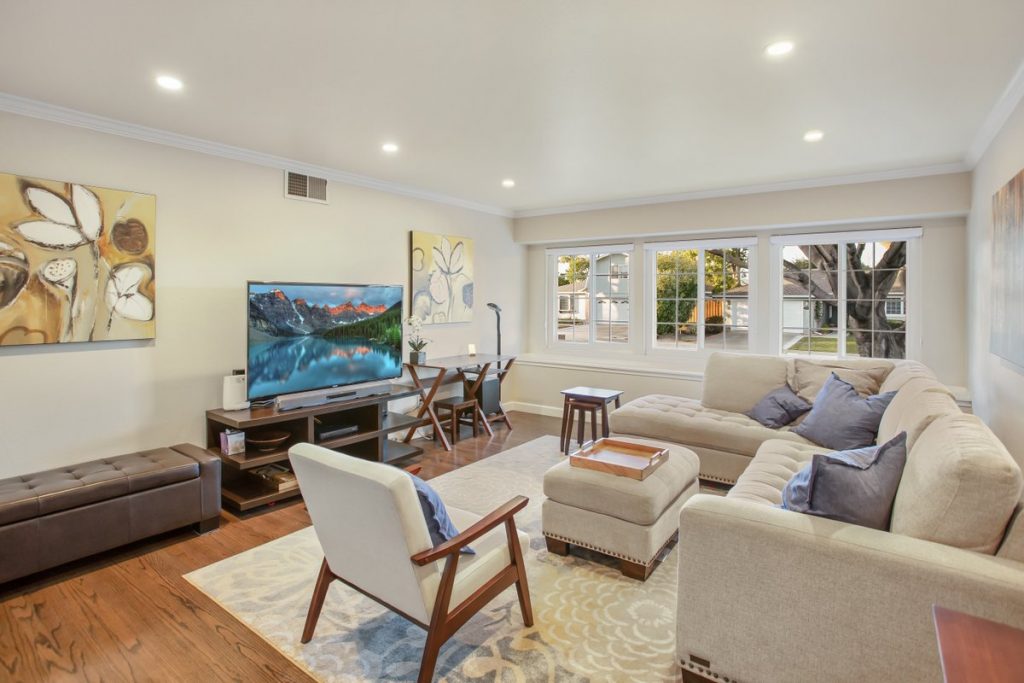 A Quick Single Family House Decluttering Guide: The KonMari Method
When we sold our single family home 15 years ago, our real estate agent told us that the buyer had gone to two open houses and then, having forgotten to inspect the closets, joyfully attended a third just to check them out.
People get excited about closet space. Haven't you ever enjoyed looking at a beautifully organized rack of clothes in a little boutique? Your closet, and the rest of your house, should look like that rack of clothes. It needs to be decluttered and feel minimal yet homey, sparse yet comfortable, clean and welcoming.
The best way to declutter your single family house is with the KonMari method. Getting rid of your possessions can be painful, especially if you attach emotion and memory to them. The KonMari method recognizes those emotional attachments and teaches you how to know when to hold onto something and when to let it go.
What is the KonMari Method?
The KonMari method is a decluttering process developed by Marie Kondo. The process is acclaimed by millions of people because it works. It's based on the Japanese philosophy that every single item you own should bring you joy. Kondo's book, The Life Changing Magic of Tidying Up is a #1 New York Times bestseller. Time also named Kondo as one of the top 100 most influential people in the world. Are you paying attention yet?
KonMari plays on your personal intuition, and because of this it tends to work faster and easier than other decluttering methods. The initial gut feeling you have when you pick up your stuff drives you to keep or discard it. Gut reactions mean quick decisions.
While the idea may seem more emotional than the traditional, "throw out what you don't need," you know as well as I do that you have items you're hanging onto because you think you should keep them.
While it's unreasonable to ask you to empty your entire closet while you're still living in the home, know that prospective buyers are going to snoop. You can't just stuff your collection of shoes and cat pillows in there. Buyers will judge (even if we won't).
3 Steps to a Clutter-Free Single Family Home
1. Carve out an afternoon to start the process.
Start with the room that needs the most TLC. Maybe your living room is stuffed with kids' toys or your t-shirts or clothes spill out all over your bedroom floor. Grab several trash bags and move everything in the house to its proper room.
2. Recognize the mess before it gets better.
Take out everything from its proper place. Then, you're literally going to hold everything and recognize if 1. It brings you positive energy 2. You legitimately need it. If there are items you already know you need to get rid of, by all means–put those in the donation pile first.
3. Now, organize your decluttered space.
The goal is to pare down everything you no longer feel joyful about, want, or need so that everything you own fits into its own space. You should then artfully fold and hang everything (rainbow order looks best) as if your drawers and closet were the racks of that designer boutique.
Don't get discouraged if the process takes longer than you thought it would–it's a big job. Set a deadline for yourself, and do your best to stick to it.
How Preparing Your Single Family Home for Sale Impacts Marketing Efforts
Decluttering has the highest return on any improvement when you sell your home.  Whether you follow the KonMari approach or have your own system, be sure to go over your home and declutter.
Your real estate agent needs to take professional photos of your single-family home in order to market it most effectively. The cleaner it is, the less clutter it has, and the better the furniture is staged, the more amazing your photos will look. This will result in more showings and ultimately more offers.  
Working with an agent that includes this type of service, can save you time, money and get the results that you are looking for.