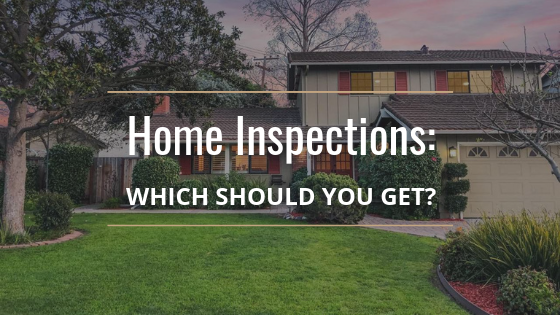 Home Inspection Should You Get One?
There are a number of inspections that you can get for a home. Just to name a few there is the general property inspection, a termite or wood destroying pests inspection, roof inspection, foundation inspection, chimney inspection, pool inspection, septic inspection, and lead inspection. As a home buyer or seller, which ones are necessary and which should you order?
In our local market, home sellers will have their own inspections done prior to selling their home. The advantage of having your home inspected prior to putting it on the market is you can make repairs or disclosures as needed. This helps ensure a smoother transaction as buyers should not be shocked when they have their own inspections. Buyers in our area have grown accustomed to reviewing these inspections prior to making an offer. As a home seller, the standard inspections to have done on your home is the general property inspection, termite inspection, and roof inspection. Other inspections may be performed, but on a case by case basis.
General Home Inspection
Whether you own a single-family home, condo, or townhome, you should always get a general home inspection. The general home inspection is a visual exam of the structure and all the systems of a house. It details problems or defects with the property or potential issues. The three main points of an inspection are a physical condition, items in need of repair or replacement, and the remaining useful life of major systems.
Keep in mind that most general home inspections are pretty basic. The report won't cover defects that are not visible, inoperable systems (e.g., A/C during the winter), or may or may not report code violations. Most home inspectors will point out defects and recommend that interested parties consult the appropriate tradespeople or professionals for more information and will not quote the costs of repairs.
Keep in mind the industry of home inspectors is not regulated so there is a high degree of variation between good and poor home inspectors. In our area the cost of a home inspection will be anywhere from $400-$800 for a typical single family home between 1,000 Sq. Ft. and 3,000 Sq. Ft. and can take anywhere from 2 to 5 hours. The cost will vary by size of the home, but also the level of detail of the inspection.
Termite Inspection
A termite or wood destroying pest inspection is a visual inspection relating to anything that destroys or damages wood such as (but not limited to) termites and fungus. They are typically looking for evidence such as droppings, mud tubes, or damaged wood that would indicate an infestation. Their reports are broken into two main sections. Section 1 outlines active infestations and section 2 covers items that could lead to active infestations like water leaks or design flaws. In some cases there is a third section referred to as further inspection items. This occurs if there are suspicious items the inspector finds that would require opening up a wall or removing flooring to verify if there is concealed damage.
In the past this was a mandatory inspection and lenders would require a section 1 clearance before they would approve a loan on the home. As a result, this is an inspection that is generally always requested and performed. In our current market, area lenders are not as particular about getting this inspection and will not require a clearance. However, if the lender does see a copy of the termite report or a termite report is referenced they may require it and at that point may request a section 1 clearance.
Termite inspectors and inspections are regulated by the state so they are stringent and have reporting guidelines. The termite inspections also will provide a cost for repairs and provide what's referred to as a section one clearance, which is a certification that the structure is free of any section 1 damage.
The cost of a termite inspection in our area is anywhere between $200 to $400 depending on size of the home, and expect it to take about 1-3 hours.
Roof Inspection
Roof inspections are another type of inspection that buyers expect to receive. One of the highest maintenance costs for a home owner is replacing a roof. Because of this, buyers want to know the general condition of the roof, its age ,and how much remaining or useful life it will have.
A roof inspection is another visual inspection that will identify the type of roofing system of a home, point out its characteristics, and whether or not it has any flaws. The roof inspector will go over the general condition of the roof, how many layers it has, if it is installed correctly, and if there are any potential issues that could lead to water intrusion or leaks. The roof inspector will then provide an estimate as to the general condition of the roof as well as its remaining life expectancy.
Roof inspection companies are sometimes also roofing companies, and they will provide estimates on costs for repairs and provide a 1-year watertight warranty if the repairs are performed.
The cost of a roof inspection will generally be between $100-$200. Some roof inspectors will not access the top of two-level or multi-level structures, or walk on certain roofs like metal single roofs. Since the inspection does not require access into the home, the roof inspector will generally not come at a specified time.
Foundation Inspection
Foundation inspections are not typical for every home, and are generally only requested if there is a recommendation from a property inspector. There are no standards for foundation inspections, but generally a foundation inspection may deal with a specific aspect of the foundation such as cracks or uneven settling of a home.
A foundation inspection should go over the type of foundation, make a visual inspection of the foundation and its components. It will report any obvious problems, or defects, and recommendations for repairs. They may have a laser level or tool which will measure the variance of a sloping floor throughout a home. From here a foundation inspection may also make a recommendation for preventative measures such as drainage systems or retrofits.
Foundation inspections are generally expensive since there are not many available foundation inspectors. Many of these inspectors are structural engineers by trade so they are more qualified and specialized than most of the other inspection disciplines. They also may produce lengthy, detailed reports. Expect to pay $500 – $1000 for a foundation inspection. Time is generally 2-3 hours.
Pool Inspection
If you have a pool a pool inspection would be recommended. These days many buyers are opting to fill in pools rather than keep them. However, its not always the case and a buyer may be interested in knowing the condition of the pool prior to making a decision on buying a home.
A pool inspection is very specialized and will look at all aspects of the pool. The condition of the pools surface, decking, and all the systems such as the pump, heater, pool sweep. It will identify problems, and make recommendations on repairs and costs.
Expect to pay about $200-$250 for a pool inspection and allow for about 1 hour.
Chimney Inspection
Many 50's and 60's era homes in our area have brick chimneys. Wood-burning fireplaces are not big ticket sales items in our area. They are rarely used, and their use is well regulated. Nonetheless, you can no longer build an indoor wood-burning fireplace, so preserving them may be worthwhile to some buyers.
A chimney inspection will assess the condition of the chimney looking at the firebox and checking to see if there is any movement or separation of the chimney. General findings may be voids of motor in the firebox or a missing spark arrestor or chimney cap.
Due to seismic movements or settling its not uncommon for the chimneys to crack. Chimneys can experience cracks at the roof line or at the shoulder. The costs to repair a cracked chimney could vary from $2000-$8000 depending on where the crack occurs and the height of the chimney.
Expect to pay around $150-$200 for a chimney inspection. Duration of the inspection is short, about 30 minutes.
Septic Inspection
If you live in Santa Clara chances are you won't need a septic inspection for your home. All the homes in Santa Clara to my knowledge have all been connected to the public sewer system. However, if you are considering moving to an area like Morgan Hill or parts of Los Gatos and certain rural or non-incorporated areas of San Jose you may encounter homes with septic systems.
A septic system consists of a tank and a leach or drain field. There are several different types but typically the tank will have two chambers to help separate solids and liquids and a line leading to the drain field. Septic systems do require periodic maintenance. It is recommended that they are pumped every couple of years and that will depend on the amount of use, but I've heard anything from 3-10 years. Essentially you want to make sure that the solids do not get into the drain or leach lines and clog them.
A septic inspection requires pumping the septic tank, examining the tanks condition and testing the leach field by pushing water through the lines to ensure that the system is running optimally. Expect the entire inspection to last about 2-3 hours. The access to the tank will have to be made available or their will be extra time and costs. The cost of a typical septic inspection is about $600-$700. Some lenders will require that you have one done if you are purchasing a home with a septic system. After the septic system inspection is done, you will not have to pump your system for a number of years since it was just pumped.
Environmental (Mold or Lead) Inspection
Mold and lead based paint are serious hazards that can be found in homes. Lead is a material that was used in paints up to 1978 when it was banned. For homes build prior to 1978 there may be lead base paint on surfaces. There is a lead based paint disclosure that is required and recommended that home owners provide buyers outlining the dangers of lead based paints.
Although there is a possibility of lead-based paints in homes built prior to 1978, lead inspections are quite rare. Sellers never provide lead inspections and would only be required to do so if they had an inspection done in the past. Buyers who are concerned about the safety of the home that may opt for a lead inspection.
There are two types of lead inspections that I am familiar with. One requires scraping the surface and placing the sample in bags to be sent to a lab for analysis. This type of inspection takes time to get the results and is very costly if testing many areas. There is another type of inspection which involves a special device that can test the area at the location. This inspection is costly around $900, but if you want to test many surfaces throughout the home its more cost effective and you can get the results immediately. Duration of the inspection will depend on the size of the home, but anticipate 3-4 hours.
Mold is another environmental hazard that can be found and homes. Long term exposure to mold can lead to respiratory problems. Despite the potential harmful effects of exposure to mold, this type of inspection is quite rare, and is not typically requested by the seller. Generally, you would only encounter this inspection if there was a previous issue with mold or water intrusion in the home and the inspection was the conclusion of the abatement service which is certifying the removal of mold. As a buyer, you may want to get a mold inspection if you suspect there is mold due to mustiness, or perhaps water intrusion that was disclosed by the seller but not professionally abated.
The mold inspection can be very comprehensive or simple depending on who is requesting the inspection. The inspector will identify any obvious signs of mold but will take air samples in various locations to test for hidden mold. Areas that are important to check would be attic spaces and ducting. (As a side note, whenever buying an older home, and upgrading the HVAC system, always opt to replace the ducts if they are the original ducts.) The samples will have to be sent to a lab and the results will take several days to be reported.
Expect to pay around $300-$400 for a mold inspection, and the inspection to take about 2-3 hours.
Inspection Tips to Be Aware Of
It's a good idea to be present during the inspection: but give the inspector space to do his or her job. If you are underfoot, the inspector may get thrown off his or her game paying attention to you instead of the task at hand.
We recommend as a seller, you get the necessary inspections before you put your home on the market. This way, you can make repairs or disclosures as need. This will also set more accurate expectations in the mind of the buyers and will likely result in a much smoother transaction. In many cases, if the inspections are done by a reputable inspection company the buyer may not opt to do their own.
As a buyer, if you feel the seller has not provided you adequate inspections you definitely want to make the investment. Its always recommended that you have your own inspection done even if the seller has provided you with their inspection reports. You may find additional items that need attention and its good to get another perspective on the condition of the home. Even if you make a non-contingent offer, having your own inspections can provide you with a more accurate and detailed report of the home's issues
We work with our buyers and have a team of inspectors/inspection companies that we trust for all types of inspections. On our listings, we take the responsibility of ordering the inspections and meeting with the inspectors on site. When representing buyers, we consult with the buyers about the seller reports and make recommendations on what inspections we should order. We only use top-notch inspection companies that we have had experience with and we trust.