How to Stage a Home to Sell for Top Dollar
Staging by far is the least expensive and least intrusive way to get your home sold faster and for a higher dollar amount.
Staged homes in our market are not uncommon, in fact, these days there are more homes on the market that are staged than homes not staged.
Buyers in our market are expecting homes to be staged and are surprised when they are not.
So if you are getting ready to sell your home, and are wondering if you should stage your home before you sell, this is article is for you.
One thing to keep in mind is that is very important.  Not all staging is created equal. In order for staging to be effective, and for you to benefit from staging, staging of your home has to be done right.
Staging Demonstrates a Home's Potential
With staging, you minimize the negatives and accentuate the positives of a property to make the best impression.
Buyers in our market expect clean, updated, bright and stylish homes.
Staging a home with this in mind makes it easier for buyers to recognize when a house meets their expectations.
Neglecting to do this could result in a buyer who is unable to visualize the space and what it can become.
There is no question that a dark, and empty property or a property that shows poorly will not get the same attention as one filled with contemporary and engaging furnishings and accessories.
This helps buyers to instantly visualize how they will live in the property and use that space.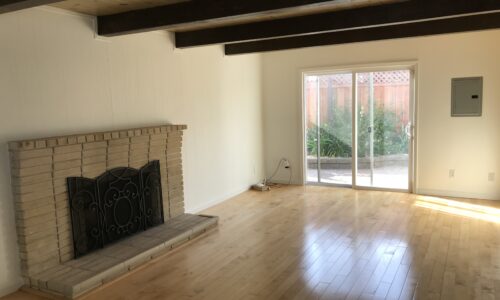 Help Buyers Better "Visualize" a Vacant Home
One of the main benefits of staging is that it helps to declutter and depersonalize the home and remove any potential distractions.
Keeping your home furnished and tailored to your tastes and preferences can make the buyer feel disconnected from the home.
A staged home helps potential buyers visualize themselves in your space, as they can get a glimpse of how they might use each of the different rooms, from the living room to the primary bedroom to the bonus room.
For example, maybe you use a bonus room as a storage area or a space with gym equipment, electronics, or other unattractive gear.
With staging, the room can be transformed into a guest bedroom which helps prospects imagine their friends and family staying there when they visit.
Or turn it into a playroom or office. Staging helps create meaning out of otherwise empty rooms.
It Helps Buyers Feel Confident in Their Purchase
If there is little to no furniture in your home, potential buyers will find it difficult to envision how to place the furniture. This leaves room for the buyer to second-guess your home, which could easily be avoided through staging.
The more you make the buyers think, the more uncertain they become about purchasing the home. Staging helps buyers feel more confident in their purchase.
Staging Prioritizes Key Spaces and Builds Value
Knowing what rooms are important (Living Rooms, Kitchen, Primary Bedroom, Primary Bath) allows sellers to prioritize specific areas when staging to make the biggest impact.
Proper staging can make the home and rooms appear larger.
Believe it or not, a room with furniture can feel larger than an empty room.
An empty room provides no spatial context, whereas a furnished room allows potential buyers to understand the dimensions of furniture in relation to the room size.
It's hard for people to imagine how much room a king-sized bed might take up, and they may think they'll need a much larger bedroom than they actually do.
Similarly, they can compare the size of a dining room table or sofa in relation to their own furniture to make sure it will all fit nicely.
On the other end of the spectrum, having too many pieces, oversized or poorly laid out furniture can make the rooms feel cramped or unusable.
Well thought-out staging should be complimentary to the character and size of the rooms.
Staging Helps Property Photos Stand Out Online
Considering that half the battle of selling a home is just getting buyers in the door, it makes sense that staging would be a major help.
The process of searching for a home always starts online.
While scrolling through photos of properties, buyers are going to be attracted to photos that are bright and make those important rooms of a home look spacious and attractive.
Staging adds depth and character to rooms, making your home's photos appear more lively and inviting, exciting buyers and making them want to visit your home.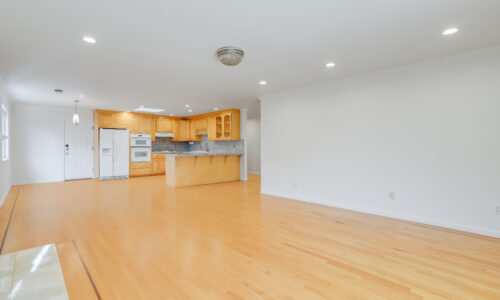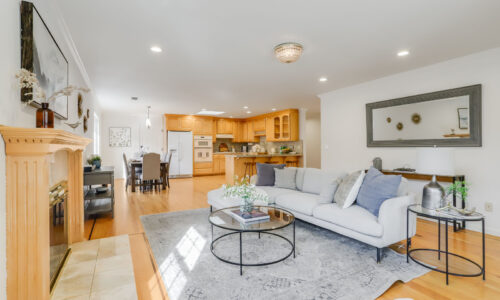 Helps Homes Appear Newer and Move-in Ready
The goals of staging are to make the home appear move-in ready and less likely that buyers will need to do lots of improvements.
In our market, buyers tend to prefer move-in ready homes, to homes that need lots of work.
Having contemporary furniture and decor is a must for good staging.
Also, the best stagers know what colors and trends are in style, and the most cost-effective updates or repairs needed to make your home appeal to today's buyers.
Staging can Increase the Value of a Home & Allow the Home to Sell Faster
As for why staged homes tend to sell faster and for more money, it basically just comes down to the points listed above.
Staging transforms homes and makes them look newer and more updated.
It highlights the home's best features, making it look brighter, and feel more contemporary and stylish.
Ultimately staging allows the buyers to visualize themselves living in the home, creating an emotional connection, leading to higher and more offers on your home.
Good Staging focuses on these factors
Bad Staging, ignores or neglects these principles and therefore the benefits of staging are lost when you have bad staging.
If your home's staging is not done properly, you're not going to get the best results.
Examples of Poor Quality Staging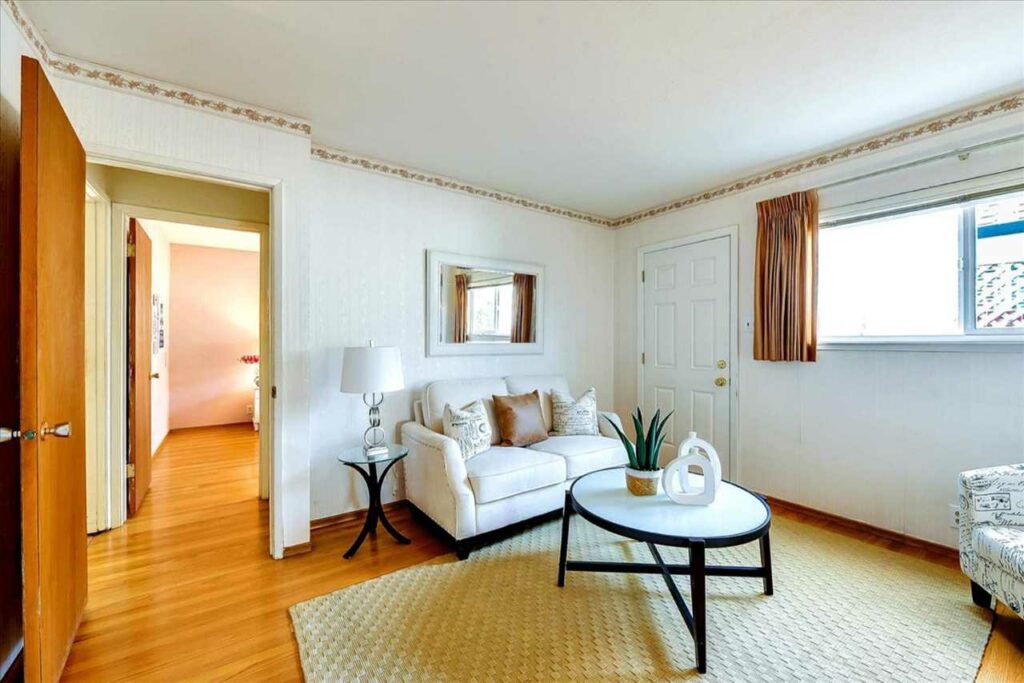 Instead of highlighting the best features of this home, this staging draws attention to the home's flaws i.e. the short distance between the door opening which does not allow sufficient space for the door to open fully.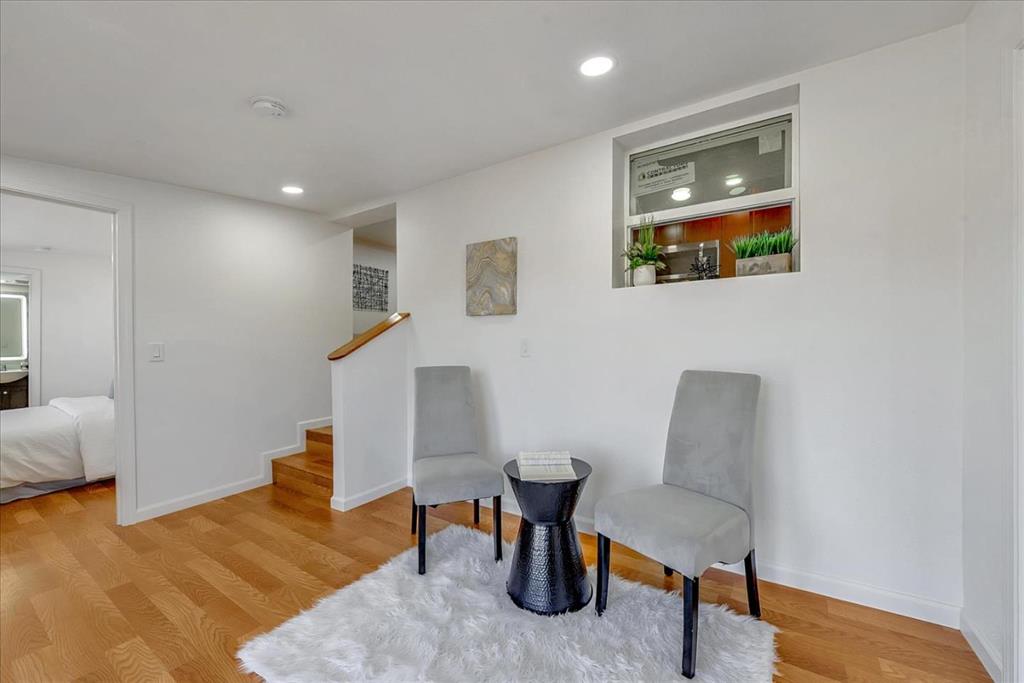 The placement and scale of the furniture in this staging example cause the space to appear nonfunctional. The chairs seem to be from a dining set, which would not make for a comfortable or useful seating area.
How to Stage Your Home for Top Dollar?
Goal – if you recall the Goal of staging is to showcase a move-in-ready home, create an emotional connection, and make a powerful impression on buyers.
Important Rooms – The most important rooms of a home are the living rooms, primary bedroom, and kitchen, special attention needs to be paid to these areas if you are going to capture a buyer's interest.
Guest bedrooms can be important too, you'll want to make them feel as spacious and comfortable as possible.
The worst thing you can do in a bedroom is put in too large of a bed where there is very little space left in the room for anything else.
Living rooms are the most important rooms in the house, home buyers are looking for a spacious and comfortable space for their family.
Often times I see living rooms staged in a formal setting or underutilizing the space. Making them look small and cramped and making it difficult for buyers to envision how to best use the space..
Make sure to use furniture and a design that allows the buyer to envision how to best use the space, so they can imagine utilizing the space themselves.
This builds value in the mind of the buyer and translates into more desire for the buyer to want your home.
Floor Plan – Buyers ideally want open, bright, and large spaces. If your home has these characteristics, you'll want to make sure the staging compliments these spaces and doesn't take away.
While most homes in our market tend to be smaller and are homes with traditionally segmented floorplans, staging in these homes has to carefully consider how to best use the limited space.
The choice of the right furniture such as a section or orientation of a sofa and chair can help the room feel more spacious and inviting.
Furniture – This must not only fit the space but the style and type of furniture are also important to make the home look newer and more updated, as well as make the space feel functional and of value to the home buyer.
Style – Creating a feel of an updated home requires understanding the latest trends and styles. Today's buyers are looking for light-filled spaces and contemporary style.
Colors – The colors of the walls, flooring, tiling, and exterior should appeal to current styles and trends.
Declutter – We all have clutter in our homes, unless your Marie Kondo it's hard to live without it. Reducing or eliminating clutter means removing the unnecessary items that are taking up space in the room, and allowing buyers to experience an ideal presentation of the area.
Cleaning – Most rooms of the home are simple to clean, requiring flooring to be swept and mopped and windows to be cleaned.
Special attention has to be given to the bathrooms and kitchen.
These areas need to have a deep cleaning to remove grease, mildew, and hard water stains.
Thorough cleaners are an important component to staging a home effectively.
How Much Does Staging a Home Cost?
In our market expect to pay $3000-$4000 to stage a 3-4 bedroom 2 bath home.
This should include all the bedrooms, living rooms, bathrooms, and kitchen as well as your entry and rear patio.
The cost will vary depending on the staging company. There are companies that charge much more and market themselves as luxury home stagers. 
Running a staging company is expensive.  There's the cost of furniture, warehousing, insurance, a moving truck, and personnel.  There isn't a lot of margin for low-cost staging, so beware of those stagers advertising low-cost staging.  
You'll want to see examples of their staging on their website and even homes that are currently listed. 
Many realtors reimburse their clients for staging at the close of escrow.
At the Brasil group, we provide complimentary staging to all our listing clients through our own staging group.
We have a full-time designer and stager, that will coordinate colors, updates, and staging to make sure your home looks great.  
For more information about our staging see the link below.
Matterport 3D Virtual Tour
Schematic Floor Plan
Professional HDR Photography
Complimentary Home Staging
Value-Add Home Updates
Aerial Photography
Drone Footage
Property Video
Property Webpage
Email Marketing
Print Marketing
In-House Design Services
Project Management
Preferred Contractors & Vendors

In-Depth Construction Knowledge
Open Houses
Syndication to 100's of Websites
Twilight Marketing Photos
Pre-Inspections
Property Inspection Management
Home Security and Monitoring
Strategic Pricing Knowledge
Social Media Advertising
Offer Presentation & Negotiation
Personal Disclosure Review
Transaction Management
Virtual Staging – Is it worth it?
Virtual staging is where furniture and decor are added to photos to make the home appear staged.
A good photo rendering company can make these photos look very authentic and difficult to tell whether the home is virtually staged or actually staged.
The advantage of virtual staging is that it is considerably less expensive than real staging.  Expect to pay around $30 per virtually staged photo.  It's also easy to create different revisions and layouts, and you can choose any style of home decoration imaginable.
Although the photos will look amazing and it will prompt buyers to want to visit your property, you won't benefit from the most powerful effect of staging and which is getting the buyers to feel that your home is the right home for them.
In fact, virtual staging can be a letdown to buyers who show up with high expectations and are disappointed at the reality of seeing a vacant home without all the fancy decor.
So although you can save quite a bit of money with a virtually staged home, don't expect the results to be the same as if you really staged it.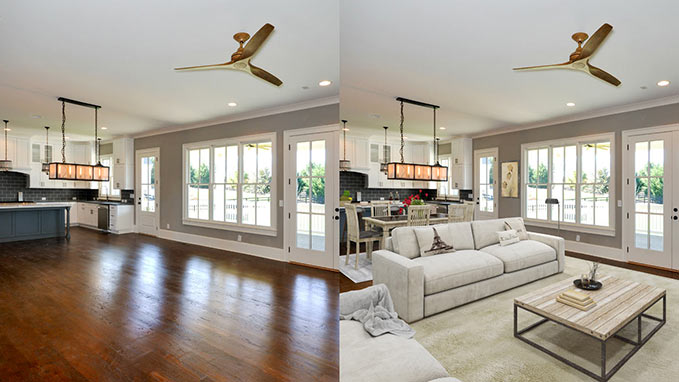 Staging in Any Market? Buyers or Sellers Market.
You might be convinced that you don't need to stage because homes in your current market are selling quickly.
Although you may find that selling your home is easy, you may still be better off having it staged.
When a market is hot, buyers have a greater sense of urgency. 
This means they have to move quickly and are more easily swayed by first impressions and emotions.  Sellers can use this to their advantage by staging their homes.  
In a hot market, a staged home could attract multiple offers instantly after listing it.
In slower markets where buyers are taking their time and there are lots of homes on the market to choose from staging helps your home show better and stand out from the competition, improving your chances of getting an offer and selling your home for a higher price.
Conclusion:
To sell your home to top value, buyers have to see the value of your home and essentially fall in love with it.
Staging helps your home connect with buyers emotionally, making it more desirable to buyers.
A well-staged home is a move-in-ready home, that creates an emotional connection, and a powerful impression on buyers.
Through staging, your home will stand out and help it to sell faster, and for a higher price.
Thanks for watching this video.
If you have any questions about staging or any aspect of selling or marketing your home, please feel free to contact me.
You can set up an appointment on my calendar for a quick consultation or email me.
Have a question? Interested in setting an appointment to talk about your real estate plans?  Contact me today.