Classic and Distinctive Elevations
Killarney Farms development has several different floorplans and every floor plans has different elevations, including the distinctive barn style roofs.
Spacious Living Rooms
Killarney Farms homes feature large living spaces with original oak hard wood flooring.
Spacious Rear Exteriors
Typical lot sizes of Killarney Farms homes are around 6,000 Sq. Ft. with sliding glass doors to the back patio.
Spacious Kitchens
Killarney Farms homes feature large kitchen areas with an abundance of space for cabinets and storage.
The Killarney Farms south development was the second of two developments that builders Lacy & White developed in the late 50's and early 1960's.   The developer took many elements of their prior development near Monroe and Lawrence and enhanced those floor plans adding more space as well as some new styles and models.  The homes were well built with stable foundations, and well proportioned rooms and amenities.  One of the distinctive features was a barn style roof over the garage that was an option on some models and trademark of others.  The original development featured its own private cabana club but has since then opened membership to people living outside the neighborhood.  
Killarney Farms South Market & Listings
Homes We Have Sold in Killarney Farms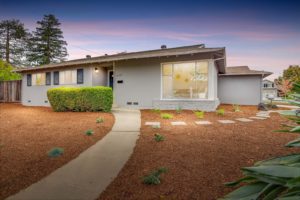 Bright and updated home situated on expansive corner lot features desirable location, two spacious living areas, 2 updated bathrooms, and landscaped backyard with sparkling pool/spa.
Killarney Farms Brochures
Page 1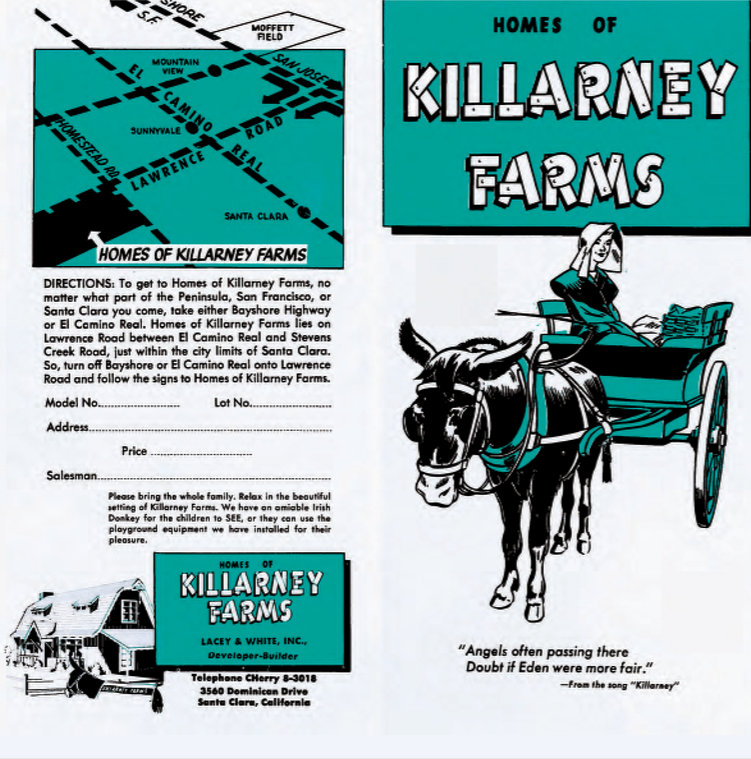 Page 2
Page 3
Page 4
Page 5
Page 6
Killarney Farms Information and Little Known Facts
There are actually 2 Killarney Farms neighborhoods in Santa Clara built by the same developer, Lacy and White and features similar floorplans, elevations, and many of the characteristics that make Killarney Farms unique.
The first Killarney Farms development was built near Wilcox High School, and was developed in the late 1950's. The second Killarney Farms development was built near Pruneridge and Pomery. Some changes were made to some floor plans, and some designs were eliminated while others were added.
Some of the fireplaces in Killarney Farms feature large stones. Legend has it that the builder, Lacey & White had procured them from a storage lot in San Francisco where they had been stored since being removed from San Francisco roads after the great 1906 earthquake.