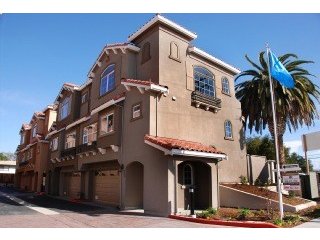 The Pruneridge Villas are located in the old commercial lot adjacent to the Chevron gas station and the Oakridge apartments on Pruneridge Avenue near the Westwood Oaks neighborhood of Santa Clara.
Rockwell homes has constructed 8 tri-level style townhomes in the location.  The townhomes are 2 bedroom 2.5 bath units approximately 1400 square feet with 2 car garages and back yard patios.  I applaud the developers ability to construct some back yard space for these units, all to often this style of townhome features no private outside area.
School-wise there are located in the Cupertino School District with enrollment area encompassing Eisenhower Elementary, Hyde Middle and Cupertino High.  For brand new homes and good schools there appears to be some good value here for home buyers.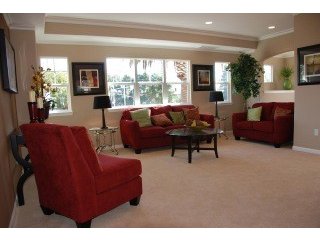 The Floor plan is typical for a tri-level style townhome development.  The first level is the garage, second level kitchen and living area, and third level is the two bedrooms which are both suites.  Bedroom sizes are reasonable, living room size is spacious.  Kitchen I felt to be a bit small and closed in.  I would have preferred to see a open kitchen with center island, wouldn't we all.  Decor and amenities, I would rate as a B.  The home used granite and tile in the bathrooms and kitchen, colors where not pleasing to me, but this is personal tasted.  Kitchen cabinetry was decent as were the entry level stainless steel appliances.
Overall considering the price tag of $600K I feel these are a reasonable value, and buyers who are looking for a townhomes in the Cupertino School District should try and negotiate and purchase one of these units.