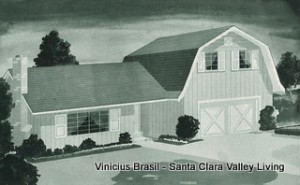 Homes built in the early sixties in Santa Clara were not typically large, at least by today's standards.  There were a few builders that had some large models but most of the homes built were between 1,300 and 1,500 square feet.   My latest listing at 781 Pomeroy Avenue in Santa Clara may have seemed out of place back in 1961 when it was originally constructed.
The home boasts 5 bedrooms and 3 baths and a total of 2,331 square feet, with an additional 450 square foot garage space and every square foot of it is original from when the home was first constructed.
Over the years the owners have changed the windows, replaced the room, added air conditioning, upgraded the baths and flooring, and built a wonderful patio overlooking the backyard.  The floor plan however  has remained the same.
Perhaps my favorite feature of this home is the large family room which features a wood burning fireplace and overlooks the back patio and yard.  The exact dimensions I am not sure of, but the space is comfortable for a spacious family and can accommodate a large dining table as well.
The home also features a large formal living room towards the entrance of the home.  Three bedrooms and 2 baths including the master bedroom are situated on the first floor and two bedrooms and 1 bath are on the second level.  The upstairs bedrooms are over sized.
This particular home is situated on a slightly wider and deeper lot which makes it even more of an ideal home for a family.  Unfortunately the builder only built a handful of these models so they are not as common as other models in the tract.