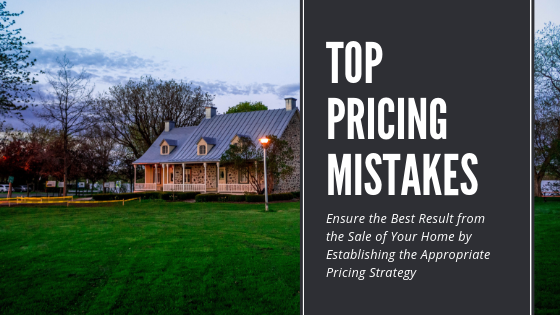 When selling a home, your pricing strategy can make or break your chances for a quick sale and getting the best price for your home. Listing at the right price can almost guarantee that a buyer will swiftly snatch up your property.  While listing at the wrong price can cause your home to sit on the market for months with not so much as a showing and give buyer's leverage to negotiate.
Unfortunately, pricing is not a simple process, and sellers are prone to make mistakes that waste both time and money. Don't let this happen to you; instead, make a speedy sale by avoiding these six pricing errors that sellers commonly make.
MISTAKE #1: Forgoing research
Without investigating past sales and current listings in the local market, sellers tend to base their prices on hearsay or on the listing price of a particular house down the street. Knowing the ins and outs of your neighborhood, the recent sales prices, and the condition of those homes will help you get a realistic picture of what price your home may fetch.  Don't just go by the sales comps, you should also study the competition in your area.
TIP: As a home seller it may be difficult for you to gather all the information, you should consult with an expert in your area to provide you a comparative market analysis (CMA).  A CMA is a report prepared by a real estate professional that looks at recent sales of homes in your area that are similar to yours. 
Getting a professional appraisal is another method of estimating your home's value.  Appraisals are based on past sales comparables, which compare similar sized homes with the same bedroom and bath configuration to reach an estimated value for the home.  The reason why appraisals are not as accurate as the values a Real Estate expert in your area can provide is that the appraisers typically only look at the factual data of a property and give very little consideration to the floor plan, location, amenities, and condition of the home. 
MISTAKE #2: Hiring the agent who offers the highest list price for your home
If you ask several listing agents how much they think they can get for your house, and one gives you a significantly higher bid than the others, be cautious: the agent may be trying to "buy" your listing by suggesting an unrealistically high asking price. This practice is unethical and costs you time and money, as you'll most likely have to slash the price after your home sits on the market unnoticed for many weeks.
TIP: Always interview at least three agents and choose one who can back up the suggested listing price with comparable sales data.
Agents may promise you a high sales price in hopes that you will sign with them to sell your home.  The problem is that after you sign you are committed to using that agent until the home is sold or the agreement has expired.   Make sure the agent goes over the rationale used to achieve the price and to show you the comparables, don't just accept their word for it.
MISTAKE #3: Getting emotionally involved
You've likely spent a lot of time, money and energy transforming your house into your home, so it's natural to be emotionally invested in its sale. Unfortunately, buyers won't have the same sentimental feelings for your home as you do, so what you think your home is worth shouldn't be a factor in determining your listing price.
TIP: Stay objective during the pricing process by focusing on statistics generated by the CMA and the results of the market. Don't be personally offended by lowball offers. Instead, think of them as the starting point of a negotiation that could result in a sale.
MISTAKE #4: Pricing too high from the start
First impressions are crucial when selling your home.  The first 10 days after you implement a listing into the MLS are the most important because that's when it's going to generate the most activity in terms of showings and views.
If your home enters the market overpriced, many buyers will overlook it from the get-go because it will be out of their range. By the time you reduce the price to fair market value, many potential buyers will have already found something else.  Other buyers may initially be interested in your new low price, but they'll also see that your home has been sitting on the market for some time, which could lead them to believe there is something wrong with the home.
TIP: Price your home correctly the first time to gain the attention of serious buyers and sell faster. If getting less money for your home is not an easy thought to bear, think of all the costs associated with homeownership that you'll have to pay if your home sits on the market for several months at an unrealistic asking price.
MISTAKE #5: Overpricing because you have "time"
Sellers who aren't in a hurry often decide to test the market by listing their homes at a high price and waiting to see where the market goes. But in most markets where home prices are dropping, waiting it out may actually cause you to lose money.
TIP: Sell your home faster and possibly for more money by pricing your home based on current home values.
It's key to price properly right away because you have a greater chance of selling if you're just on the market.  Also those buyers who are motivated and serious about your home will want to send you a strong offer to make sure no one else buys the home. 
MISTAKE #6: Chasing the market
If you list your home too high, to begin with, and the market is softening you may find yourself making incremental price drops but never quite catching up with the market.
TIP: List your home competitively to begin with. If you don't get any bites, don't hesitate to lower your price. Work with your agent to reevaluate market conditions and determine the fair market value of your home.
It's important to understand the current state of the market, are home values rising or dropping?  If you are overpriced and the market is softening you are losing precious time and need to get more realistic to lock in the best sale price at that very moment.
"When a home has had multiple price reductions, it appears not only to be stale, but that there's something wrong with it," Sarasohn says.
Conclusion
There is only one market where having a high price can result in a positive outcome, an appreciating one.  Pricing a home is just one of the important details when selling a home, but it can make or break the deal.  Consult your Realtor, to understand the current market, and be objective when deciding on your home's list price.