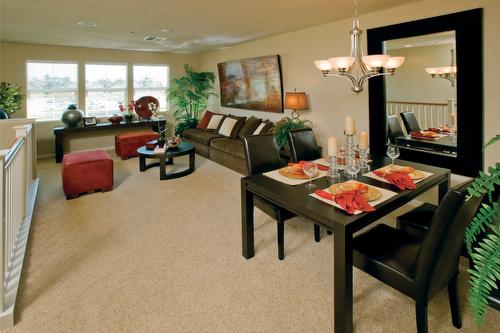 Citation homes is up to it again, developing town homes this time in Santa Clara 95054 area which has become synonymous as Rivermark. Citation homes has built a surrounding properties such as the condo development next door and the the Mission Terrace town homes on Lafayette.
These town homes are nothing unique, they are the typical 3 level townhomes that we have become accustom to in the Santa Clara Valley. First level garage and bonus room or foyer to the stairs. Second level is the kitchen and living area and bedroom and top level 2 bedrooms suites, and a "private patio" which I consider neither private or large enough to be considered a patio.
The Mission Place development keeps it simple offering just three floor plans. Plan 1 is a 1,645 sq ft plan, it is unique because it features a bedroom on the same level as the kitchen. Although this limits the living area it is an advantage for those who want to have an office or bedroom on the same level as the kitchen. The home features two suites on the top floor and the only major detractor is the tandem garage, with already limited guest parking this will be a major resale issue. This floor plan is starting in the high $500K.
Plan 2 is a 3 bedroom 3 and a half bath 1,845 sq ft townhome. It features a downstairs bonus room whose functionality remains to be discovered with an oversized half bath. The second floor features a u-shaped kitchen, living area and bedroom with bath, and top level 2 bedroom suites. This floor plan has a 2 car side by side garage, prices start in the low $600K.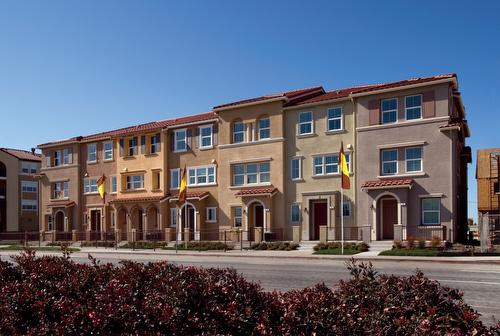 Plan 3 is a 3 bedroom 3 and a half bath 1,853 sq ft townhome which features another downstairs bonus room and half bath. The 2nd level kitchen and bedroom, and top level two bedroom suites. This floor plan also features a two car side by side garage. The major advantage of this floor plan is it is the only end unit designed plan.
The community does not feature any substantial ammenities, which for those who are money conscious will help reduce the HOA fee. The major downsides that I experiences are that AC is not a standard feature but an upgrade. The tri-level units AC is a must especially in the summer months on the top floor. The plan 1 and 2 have dark living or kitchen areas due to the lack of natural light. The amenities are typical of what most developers are offering these days; corain vanity tops, granite countertops, and stainless steel appliances.
Major concerns if purchasing these units.  You may want to consider the original Rivermark town home development if a compareable home is on the market for the same price or slightly higher.  The Rivermark development is much better laid out and offers more convenience.  Another thing to consider is parking.  Most of these homes have two car tandem garages which will force many owners to park one car inside and park one car outside.  Parking will become an issue, and will likely result in a lack of guest parking and cars parked on agnew at all time.