The Santa Clara housing market in December experienced 44 single-family homes that closed escrow, which is 16 less than sold in the previous month of November.  
The average price of a home sold in December was $1.41M which is about $10K lower than last month's figure of $1.42M.  The Median price home sold was $1.39M, which is about $10K higher than November's median price.
The average cost per square foot decreased from $997 per Sq. Ft. to $986. Of the 44 homes sold in December,  35 sold over the list price. 
On average homes that sold, sold 5.8% over asking compared to 5.4% over asking in the previous month.
We started the month of December with 30 active single-family home listings and finished with 18 in all of Santa Clara.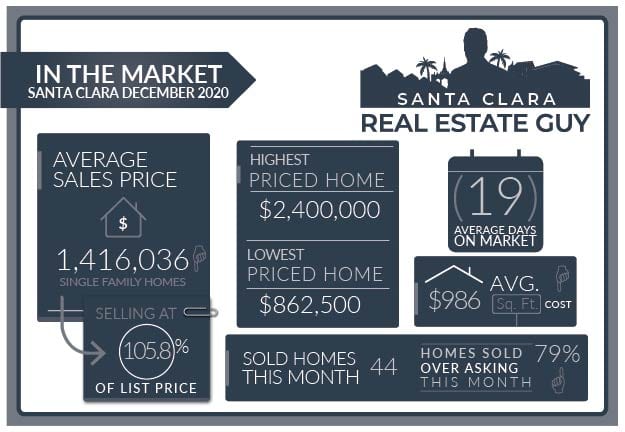 The local Santa Clara real estate market continues to be very active.  Buyer's are actively looking and inventory is still low.   As we closed out the year last year with 18 single-family homes for sale, and as of today there are about 25 single-family homes that are active.
With all the talk about the rollout of the vaccines, people relocating out of the area, and Prop 19, 2021 is definitely going to be a very interesting year for local real estate. 
Altos Research Market Data For Santa Clara
What we typically experience at the beginning of the year is a very hot market.  Low inventory and motivated buyers generally create a frenzy of bidding activity that sends home values upward.  
This year we may be experiencing a more tempered market than previous markets.  Inventory is low but as of the middle of January there has been a good level of listing activity, and there are a number of homes that are lingering on the market, mostly the high end of the market.
Moving forward we expect inventory to continue to rise.  The big question is will buyers be able to keep up with the new homes hitting the market or will new listings overwhelm buyers and shift the market.
Santa Clara Market Reports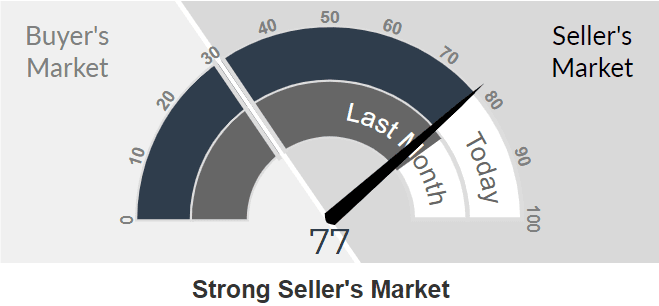 The Altos Research Market Action Index for single-family homes in Santa Clara has remained at 77 where it was last month.  For more detailed reports on Santa Clara and Santa Clara Zip codes, you can access the reports here.
It's difficult to say what will happen, but it seems that our current market is not as hot and is likely to fall into a more even market sooner rather than later. 
Why do I feel that way?  I am noticing that the number of offers lately that we have been seeing is not as robust as in the past.  Also, new MLS rules allow agents to see what homes are coming soon, allowing agents and buyers to get a good idea of upcoming homes.
Interest rates started creeping up a bit due to positive news about the vaccines.  As more confidence builds expect interest rates to rise as speculation about the government tightening monetary policy. 
The last factor is Prop. 19 and how that will impact sales for 2021.  Prop. 19 will allow homeowners to move their existing property tax base to a new home anywhere in the state.  That may be the motivation that many homeowners have been looking for and may be responsible for a surge of listings later on in the year.
Buyers, it's too early in the year to predict how things will play out.  But there is a good chance that conditions may become more favorable later in the year.  The thing to be concerned about is home values, will they increase substantially in the next few weeks and months or will pricing be more favorable later in the year for those who wait.  Also with interest rates likely to go up, when will be the next time we see interest rates this low.  
Sellers, if you are moving out of state and don't care about your property tax, I would suggest getting your home on the market sooner rather than later.   You don't want to be stuck in April when the market starts to shift and it could start to shift even earlier.  If you want to way for April and Prop. 19 to kick in, you could still list your home in March, just make sure to close after April 1st.  
As always, whether you are buying or selling be sure to understand how your property ranks in the current market.   Knowing how your home or the home you are considering buying fits in the current market is important to determine the right price.
If you have any questions about a home on the market or your home's value, please feel free to reach out I am happy to hear from you.
Have a question?  Interested in setting an appointment to talk about your real estate plans?  Contact me today.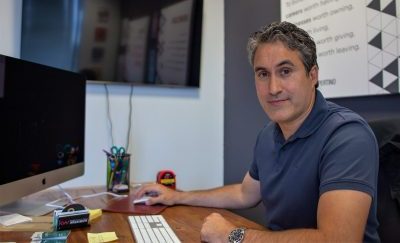 Santa Clara December 2020 Home Sales
| | | | | | | | |
| --- | --- | --- | --- | --- | --- | --- | --- |
| Street Address | List Price | Price | DOM | Beds Total | Bths | Sq Ft Total | Age |
| 3719 Vireo Avenue | $2,198,000 | $2,400,000 | 9 | 4 | 2|1 | 2,511 | 25 |
| 3491 Tracy Drive | $1,898,000 | $1,970,000 | 8 | 3 | 2|0 | 1,420 | 64 |
| 472 Norwood Circle | $1,850,000 | $1,850,000 | 18 | 4 | 3|1 | 2,398 | 13 |
| 575 N Winchester Boulevard | $1,750,000 | $1,775,000 | 0 | 4 | 4|0 | 2,679 | 14 |
| 2998 Kaiser Drive | $1,738,000 | $1,720,000 | 30 | 3 | 2|1 | 1,638 | 5 |
| 2301 Lass Drive | $1,688,000 | $1,700,000 | 12 | 4 | 3|0 | 2,326 | 22 |
| 431 Rosemont Drive | $1,680,000 | $1,660,000 | 19 | 3 | 2|0 | 1,056 | 62 |
| 1751-1753 Cabrillo Avenue | $1,388,000 | $1,650,000 | 4 | 4 | 3|0 | 1,757 | 66 |
| 2361 Nobili Avenue | $1,548,000 | $1,650,000 | 5 | 3 | 2|0 | 1,425 | 61 |
| 1734 Pomeroy Avenue | $1,650,000 | $1,650,000 | 57 | 4 | 2|0 | 1,777 | 66 |
| 3463 Flora Vista Avenue | $1,399,000 | $1,630,000 | 8 | 4 | 3|0 | 1,879 | 66 |
| 2495 Ramke Place | $1,598,889 | $1,625,000 | 40 | 3 | 2|0 | 1,654 | 63 |
| 3227 San Juan Avenue | $1,398,000 | $1,550,000 | 6 | 3 | 2|0 | 1,585 | 62 |
| 2619 Elliot Street | $1,550,000 | $1,550,000 | 21 | 3 | 2|0 | 1,559 | 61 |
| 965 Pomeroy Avenue | $1,549,000 | $1,550,000 | 20 | 6 | 3|0 | 2,395 | 57 |
| 3484 Notre Dame Drive | $1,349,000 | $1,520,000 | 5 | 3 | 2|0 | 1,328 | 63 |
| 2158 Hoover Drive | $1,398,800 | $1,503,000 | 7 | 3 | 2|0 | 1,181 | 57 |
| 221 Cypress Avenue | $1,548,000 | $1,500,000 | 17 | 3 | 2|1 | 1,976 | 67 |
| 2840 Fargher Drive | $1,399,000 | $1,438,000 | 39 | 3 | 2|1 | 1,639 | 31 |
| 1796 Bowers Avenue | $1,398,000 | $1,415,000 | 45 | 4 | 2|0 | 1,330 | 64 |
| 2687 Donovan Avenue | $1,280,000 | $1,412,000 | 6 | 3 | 2|0 | 1,228 | 64 |
| 1346 Buchanan Drive | $1,299,888 | $1,398,888 | 7 | 3 | 2|0 | 1,329 | 60 |
| 1119 Reed Street | $1,380,000 | $1,382,000 | 14 | 4 | 3|0 | 1,522 | 73 |
| 3642 Eastwood Circle | $1,329,000 | $1,375,000 | 24 | 4 | 2|0 | 1,565 | 52 |
| 4656 Armour Drive | $1,350,000 | $1,370,000 | 16 | 5 | 3|0 | 1,919 | 60 |
| 420 Hemlock Court | $1,299,000 | $1,350,000 | 6 | 3 | 2|0 | 1,457 | 54 |
| 2124 San Rafael Avenue | $1,288,000 | $1,330,000 | 6 | 3 | 2|0 | 1,078 | 65 |
| 185 Bel Ayre Drive | $1,250,000 | $1,300,000 | 0 | 3 | 2|0 | 1,341 | 71 |
| 2625 Bonnie Drive | $1,360,000 | $1,285,149 | 82 | 4 | 2|0 | 1,315 | 60 |
| 2230 Brown Avenue | $1,248,000 | $1,285,000 | 15 | 3 | 2|0 | 1,034 | 62 |
| 1744 Cunningham Street | $950,000 | $1,280,000 | 3 | 3 | 1|0 | 1,021 | 69 |
| 3483 Fowler Avenue | $1,200,000 | $1,270,000 | 0 | 3 | 1|0 | 1,068 | 66 |
| 1769 Higgins Avenue | $998,888 | $1,265,000 | 27 | 5 | 2|0 | 1,302 | 67 |
| 2339 Menzel Place | $1,038,888 | $1,262,500 | 8 | 3 | 2|0 | 1,053 | 66 |
| 816 Baird Avenue | $998,000 | $1,190,000 | 8 | 4 | 2|0 | 1,244 | 59 |
| 864 Orkney Avenue | $1,099,950 | $1,180,000 | 7 | 3 | 2|0 | 1,207 | 58 |
| 1424 Maryann Drive | $999,000 | $1,150,000 | 36 | 3 | 2|1 | 1,310 | 61 |
| 4682 Burke Drive | $1,135,000 | $1,136,000 | 12 | 4 | 2|0 | 1,767 | 60 |
| 4621 Burke Drive | $1,050,000 | $1,067,500 | 0 | 3 | 2|0 | 1,095 | 60 |
| 1930 Nelson Drive | $949,000 | $1,010,000 | 6 | 4 | 2|0 | 1,167 | 60 |
| 3279 Agate Drive | $999,000 | $970,000 | 123 | 3 | 1|0 | 897 | 65 |
| 2235 Newhall Street | $949,000 | $953,000 | 21 | 3 | 2|0 | 1,092 | 72 |
| 4647 Demaret Drive | $899,000 | $915,000 | 9 | 3 | 2|0 | 1,095 | 60 |
| 546 Saratoga Avenue | $899,000 | $862,500 | 48 | 2 | 1|0 | 990 | 73 |
Santa Clara Housing Market Archive