The Santa Clara housing market in June experienced 50 single-family homes that closed escrow, which is 3 more than closed escrow in the previous month of May.
The average price of a home sold in June was $1.9M which is about $70K lower than the previous month's figure of $1.97M. The median price home sold was $1.9M, about $51K lower than the median price in May.
The average cost per square foot saw an decrease from $1329 per Sq. Ft. to $1269 per Sq. Ft. Of all the 50 homes sold in June 42 sold over the list price.
On average homes that sold did so at 10.13% over asking compared to 17.34% over asking in the previous month.
We started the month of June with 45 active single-family home listings and finished with 53 active single-family homes for sale in all of Santa Clara.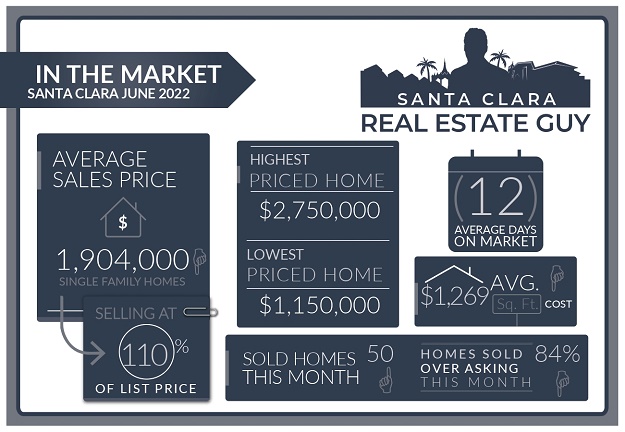 Homes are Selling and Market Still Moving
In last month's market report we discussed how the market has shifted and corrected.
High interest rates and a steep correction in the stock market had caused home values to plummet from their peaks.  
Homes are sitting on the market longer and inventory has also increased, but in spite of this shift homes are still selling.
In the last 30 days there have been 34 homes that have accepted an offer and inventory has stayed pretty steady in the last few weeks around 60 homes.
If you missed last weeks video on the market shift I included the link in the text or you can access it below.
Altos Research Market Data For Santa Clara
Home Values Likely to Soften More
It's difficult to pinpoint how much values have decreased from their tops, I am seeing cases where homes are selling 20-25% less than peak prices.  This may be the extreme, but surely there has been a significant price drop at least 15% and likely more.
In recent weeks, inventory has stayed relatively stable.  Interest rates spiked but then pulled back down again, and the stock market indexes have been trading in the same range for the last month.
These factors will help home buyers feel more comfortable stepping into the market.  Also new comps will help with the pricing of the market, but expect home values to soften more as buyers proceed with caution and inventory increases.
Santa Clara Market Reports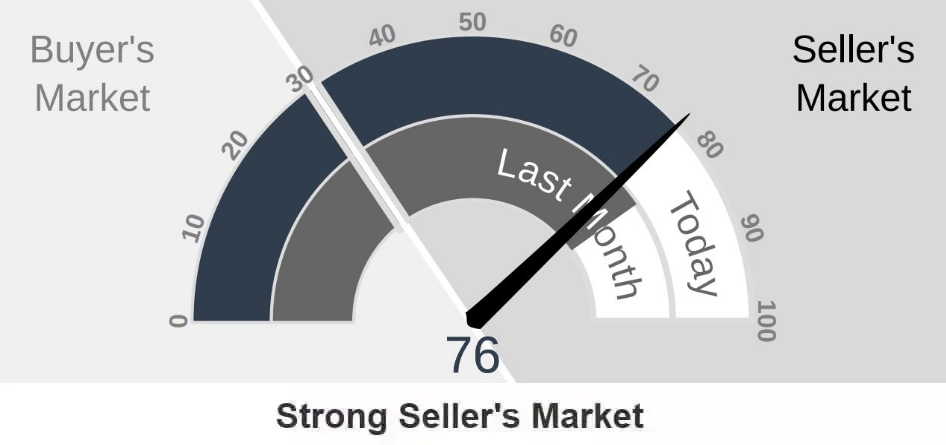 The Altos Research Market Action Index for single-family homes in Santa Clara has decreased to 76 from 82 where it was last month. For more detailed reports on Santa Clara and Santa Clara Zip codes, you can access the reports here.
What's Going on with Inventory
We are constantly looking at inventory, it is by far the biggest or I think the main factor that influences the strength and pricing.  We are in the Summer market which tends to have the highest levels of inventory.
In the last few weeks inventory has jumped to 60 homes, dropped below 60 into the mid-50s, and now is back around 60 homes.
I suspect some of that had to do with the major July 4th holiday, and I suspect moving forward that the number of homes will increase, and that by the end of the month, the market may have above 70 homes.
In my experience, 70 homes on the single family homes on the market (currently as of this post there are around 60 townhomes and condos listed on the market) the market is very slow.  That is a number where there are plenty of options for buyers, and they tend to be very picky and gravitate to the better listed homes.  As in better locations and condition.
Other Factors in the Market:
As I mentioned earlier the stock market has been trading rather sideways in the last month. Days of selling followed by days of buying with no strong volume.
Interest rates have increased from a month ago, but currently they are not much higher than they were just 30 days ago.
Interest rates are still likely to tread higher, and there is no indication of what will happen in the stock market. Any sort of economic news may sending it up or down.
Save thousands when you sell.
Includes Free Staging and Our Complete Selling Solution
* Total commission 4% including buyer side agent commission of 2.5%, offer varies by value of home.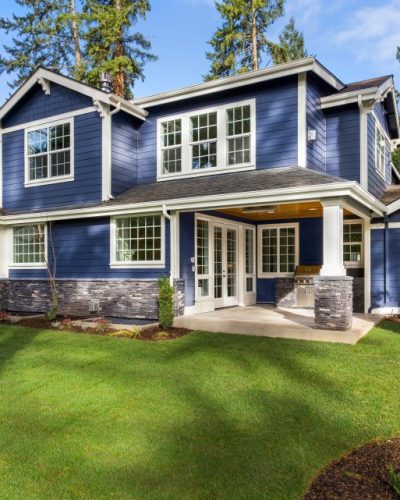 What Can We Expect Moving Forward?
Buyers, I have been selling real estate for 20 years now, and during those 30 years there have only been 5 years of down or even markets.  I can't stress this enough, its a great opportunity to start looking for a home.
I know most agents says its always a great time to buy, but thats now, me, I rarely say that, but I will say it now, "Its a great time to buy" Vinicius Brasil.
Will values go down further, it's very likely yes. Will values eventually come back again that would be a yes.
The timing of all this is hard to say, and as a buyer timing the market can be tough. Just like the market shifted suddenly and prices dropped, there will come a time when inventory is low, interest rates drop, and multiple offers return.
So as always proceed cautiously, but now you can be picky, more careful, and find the right home.
Also understand that rates will eventually drop, and you will be able to refinance into a better rate. There is lots of debate about how soon this will happen, but I suspect it can happen as early as the end of the year or early next year.
Sellers, if you didn't get your home on the market by early May, you missed what was possibly the strongest real estate market we have ever seen.
This is tough for many sellers and agents to comprehend how much the market can change and has changed in just a few weeks and months.
As the market corrects and adjusts to the new normal, seller's expectations must be in line with the market or risk losing thousands more in equity.
More importantly, if you are planning to sell; strategy, pricing, and timing are more critical than ever.
I recommend you watch my video on the Shifting Real Estate Market to understand what sellers need to do in the current market to get their homes sold.
Conclusion:
As always, whether you are buying or selling, understanding the current market and how your home relates will set you up for success.  The housing stock of Santa Clara is very diverse and can vary greatly from one neighborhood to the next.  
Developing the right strategy for your home will maximize your ability to sell for top value.
If you have any questions about a home on the market or your home's value, please feel free to reach out, I am happy to hear from you.
Have a question? Interested in setting an appointment to talk about your real estate plans?  Contact me today.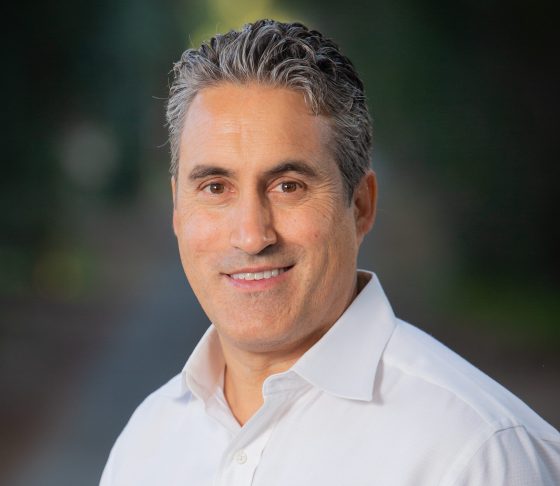 Santa Clara June 2022 Home Sales
| | | | | | | | |
| --- | --- | --- | --- | --- | --- | --- | --- |
| Street Address | List Price | Price | DOM | Beds Total | Bths | Sq Ft Total | Age |
| 3311 Tracy Drive | $2,600,000 | $2,750,000 | 14 | 5 | 3|0 | 2,340 | 65 |
| 1002 Brackett Way | $2,700,000 | $2,700,000 | 0 | 3 | 2|1 | 2,331 | 19 |
| 2240 Menzel Place | $1,988,888 | $2,600,000 | 8 | 3 | 2|1 | 1,766 | 68 |
| 1052 Waterbird Way | $2,190,000 | $2,460,000 | 7 | 3 | 2|0 | 1,388 | 61 |
| 386 Monroe Street | $2,198,999 | $2,300,000 | 9 | 5 | 3|0 | 2,854 | 14 |
| 485 Woodhams Road | $2,100,888 | $2,255,000 | 4 | 3 | 2|0 | 1,552 | 62 |
| 1006 Live Oak Dr | $1,595,000 | $2,250,000 | 6 | 3 | 2|0 | 1,481 | 59 |
| 1972 Stanley Avenue | $1,850,000 | $2,250,000 | 4 | 4 | 2|0 | 1,714 | 67 |
| 333 Kellogg Way | $1,888,000 | $2,218,000 | 8 | 3 | 2|0 | 1,688 | 67 |
| 3290 Tracy Drive | $1,788,888 | $2,200,000 | 8 | 3 | 2|0 | 1,265 | 65 |
| 2555 Bonnie Dr | $1,849,000 | $2,180,000 | 13 | 3 | 2|0 | 1,713 | 50 |
| 542 Woodhams Road | $1,980,000 | $2,140,000 | 8 | 4 | 3|0 | 1,810 | 59 |
| 3128 Fresno Street | $1,799,000 | $2,100,000 | 6 | 3 | 2|0 | 1,314 | 73 |
| 2124 Briarwood Drive | $1,785,000 | $2,080,000 | 18 | 4 | 2|0 | 1,552 | 66 |
| 74 Woodhams Road | $1,890,000 | $2,080,000 | 0 | 3 | 2|0 | 1,240 | 68 |
| 3558 Mauricia Avenue | $1,998,000 | $2,080,000 | 7 | 3 | 1|1 | 1,064 | 63 |
| 3129 El Sobrante Street | $1,899,950 | $2,075,000 | 12 | 4 | 2|0 | 1,573 | 73 |
| 3358 Soares Court | $1,999,000 | $2,070,000 | 26 | 5 | 3|1 | 2,633 | 57 |
| 2654 Brady Ct | $1,968,888 | $2,020,000 | 9 | 3 | 2|0 | 1,737 | 66 |
| 2497 Pilot Knob Drive | $1,788,000 | $2,010,000 | 8 | 3 | 3|0 | 1,629 | 2 |
| 3457 Santa Barbara Avenue | $1,798,000 | $2,000,000 | 22 | 4 | 2|0 | 1,500 | 68 |
| 4337 Watson Circle | $1,688,000 | $1,960,000 | 7 | 3 | 3|1 | 1,657 | 18 |
| 2069 Coolidge Drive | $1,698,000 | $1,955,000 | 12 | 3 | 2|0 | 1,215 | 59 |
| 3408 Creighton Place | $2,079,000 | $1,950,000 | 10 | 3 | 2|0 | 1,332 | 64 |
| 3531 Forest Avenue | $1,588,000 | $1,905,000 | 8 | 4 | 2|0 | 1,350 | 67 |
| 675 Barto Street | $1,650,000 | $1,900,000 | 7 | 3 | 3|0 | 1,314 | 69 |
| 618 San Miguel Avenue | $1,598,888 | $1,880,000 | 9 | 3 | 2|0 | 1,155 | 65 |
| 1073 Sunlite Drive | $1,588,000 | $1,860,000 | 19 | 4 | 2|0 | 1,398 | 72 |
| 2653 Wallace Street | $1,699,888 | $1,825,000 | 8 | 3 | 2|0 | 1,357 | 66 |
| 721 Enright Avenue | $1,498,000 | $1,800,000 | 7 | 4 | 2|0 | 2,344 | 72 |
| 2275 Capistrano Drive | $1,600,000 | $1,800,000 | 8 | 3 | 2|0 | 1,447 | 65 |
| 3399 Forest Avenue | $1,685,000 | $1,800,000 | 13 | 4 | 2|0 | 1,350 | 67 |
| 3531 Butcher Drive | $1,649,000 | $1,780,000 | 6 | 3 | 2|0 | 1,166 | 68 |
| 1075 Lincoln Street | $1,955,000 | $1,760,000 | 62 | 3 | 1|1 | 1,138 | 1 |
| 3552 Earl Drive | $1,498,000 | $1,750,000 | 8 | 3 | 2|0 | 1,348 | 66 |
| 3475 Kenyon Drive | $1,799,999 | $1,750,000 | 13 | 5 | 3|0 | 1,902 | 61 |
| 2132 San Rafael Avenue | $1,399,000 | $1,676,000 | 7 | 3 | 2|0 | 1,078 | 67 |
| 2028 Avenida De Las Flores | $1,699,950 | $1,645,000 | 24 | 4 | 2|1 | 1,850 | 46 |
| 3498 San Marcos Way | $1,628,888 | $1,620,000 | 49 | 4 | 2|0 | 1,608 | 68 |
| 2134 Kingsbury Cir | $1,399,000 | $1,540,000 | 12 | 3 | 2|1 | 1,589 | 22 |
| 2321 Amethyst Drive | $1,498,000 | $1,530,000 | 32 | 3 | 2|0 | 1,034 | 64 |
| 1715 Civic Center Drive | $1,348,800 | $1,520,000 | 7 | 3 | 2|1 | 1,731 | 43 |
| 2220 Lenox Place | $1,488,000 | $1,510,000 | 13 | 4 | 2|1 | 1,685 | 23 |
| 2293 Cabrillo Avenue | $1,398,000 | $1,500,000 | 8 | 3 | 2|0 | 1,368 | 68 |
| 1784 Market Street | $1,398,000 | $1,476,000 | 7 | 3 | 2|0 | 1,207 | 112 |
| 1934 De La Pena Avenue | $1,280,000 | $1,470,000 | 6 | 3 | 1|0 | 1,246 | 75 |
| 2809 Barcells Avenue | $1,475,000 | $1,470,000 | 23 | 3 | 2|0 | 1,254 | 67 |
| 791 Clyde Avenue | $1,350,000 | $1,400,000 | 12 | 4 | 2|0 | 1,475 | 58 |
| 3552 Aberdeen St. | $1,050,000 | $1,200,000 | 3 | 4 | 2|0 | 1,244 | 61 |
| 618 Oakwood Drive | $1,299,000 | $1,150,000 | 13 | 5 | 2|1 | 2,010 | 57 |
Santa Clara Housing Market Archive