The Santa Clara housing market in July experienced 36 single-family homes that closed escrow, which is 14 less than closed escrow in the previous month of June.  For some more perspective, last year there were 60 homes sold in July.
The average price of a home sold in July was $1.59M which is about $315K lower than the previous month's figure of $1.9M. The median price home sold was $1.62M, about $288K lower than the median price in June.
The average cost per square foot saw an decrease from $1269 per Sq. Ft. to $1109 per Sq. Ft. Of all the 36 homes sold in July 16 sold over the list price.
On average homes that sold did so at 2.07% over asking compared to 10.13% over asking in the previous month.

We started the month of July with 53 active single-family home listings and finished with 63 active single-family homes for sale in all of Santa Clara.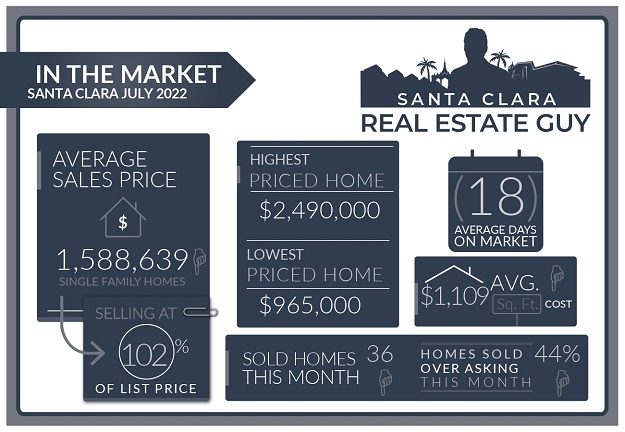 Market is Stabilizing
This month we are finally seeing the numbers that correspond to the market's sharp correction in May.
Since then interest rates have rising and dropping, most recently dropping below their recent highs.
Although there are plenty of homes sitting on the market, homes are selling, and homes priced well are selling quickly within a week or two and some with multiple offers.
Keep in mind that they number of offers being received right now is considerably less than in the early spring months.
At this point it the market doesn't appear to be dropping further, but stabilizing.
Altos Research Market Data For Santa Clara
Home Inventory Levels Drop
In a slowing market we typically see inventory of homes for sale increase. 
We are definitely seeing less sales, as the number of homes sold in July is much less than the previous months.  However, it appears that listing activity has also dropped.  Perhaps in response to the dropping market.
Current inventory as of this blog post is in the mid 50's, below what we started the month of August with.
The lower inventory is helping the market stabilize.  Also moving into fall listing activity should drop further, so there maybe some potential for the market to tighten up further and perhaps pricing even start to rebound.
Its way to early to tell as the market factors such as interest rates, the stock market, and fears of a looming recession are still weighing heavily on the market.
Santa Clara Market Reports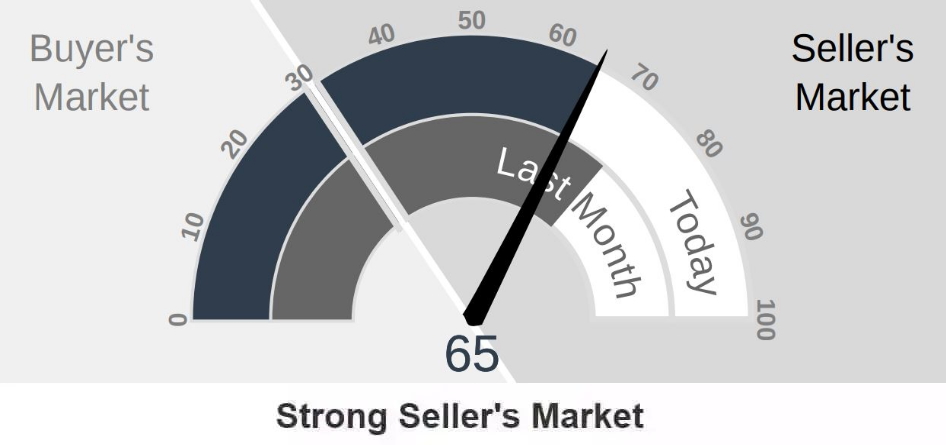 The Altos Research Market Action Index for single-family homes in Santa Clara has decreased to 65 from 76 where it was last month. For more detailed reports on Santa Clara and Santa Clara Zip codes, you can access the reports here.
Buyer Attitudes are Positive.
As inventory has dropped, and buying activity has picked up, its clear that buyers have re-entered the marker.
Interest rates have dropped a bit from their highs and the stock market has been rallying in the last two weeks, perhaps calming buyer fears that the market will drop further.
It appears that buyers are comfortable stepping back into the market.  Also the new comps have helped with pricing expectations for both buyers and sellers.
Other Factors in the Market:
As I mentioned earlier the stock market has been rallying in the last two weeks, making some significant gains from the lows.  
Interest rates have also dropped from their highs of around half a percent.
Although the FED isn't finished raising rates, new inflation data suggests that inflation is not heating up further so this may influence any drastic rate hikes from the FED.
Save thousands when you sell.
Includes Free Staging and Our Complete Selling Solution
* Total commission 4% including buyer side agent commission of 2.5%, offer varies by value of home.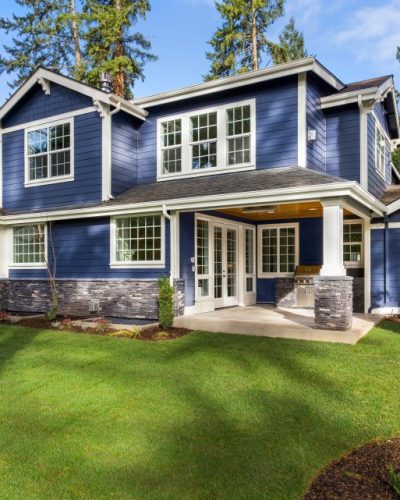 What Can We Expect Moving Forward?
Buyers, I am a bit surprised that the market is showing so much resiliency here.
If you have been shopping you probably have notice that there have not been many homes coming on the market. Those homes of interest that have come up are getting snatched up rather quickly.
Although some economists still feel that we are in for a hard landing still, Wall Street is buying.
As a buyer, you have to be concerned about inventory moving forward as we are approaching the Fall.
There may be an increase in September, but I don't think we will see a large influx of homes between now and the end of the year. More likely after September we can expect inventory to start dropping making buying more challenging.
As a buyer, you may want to step up your buying activity to make sure you are not stuck in December and still looking to buy a home.

Sellers, this is a bit of a silver lining.
What was anticipated to be a slow market with dropping prices, is looking more like a market shift in the other direction.
Assuming the stock market stabilizes, interest rates do not move up sharply, there is a good chance that we may start to see home prices move up.
If you are considering selling in the next few months, the market might be setting up to be a good seller's market.
Conclusion:
As always, whether you are buying or selling, understanding the current market and how your home relates will set you up for success.  The housing stock of Santa Clara is very diverse and can vary greatly from one neighborhood to the next.  
Developing the right strategy for your home will maximize your ability to sell for top value.
If you have any questions about a home on the market or your home's value, please feel free to reach out, I am happy to hear from you.
Have a question? Interested in setting an appointment to talk about your real estate plans?  Contact me today.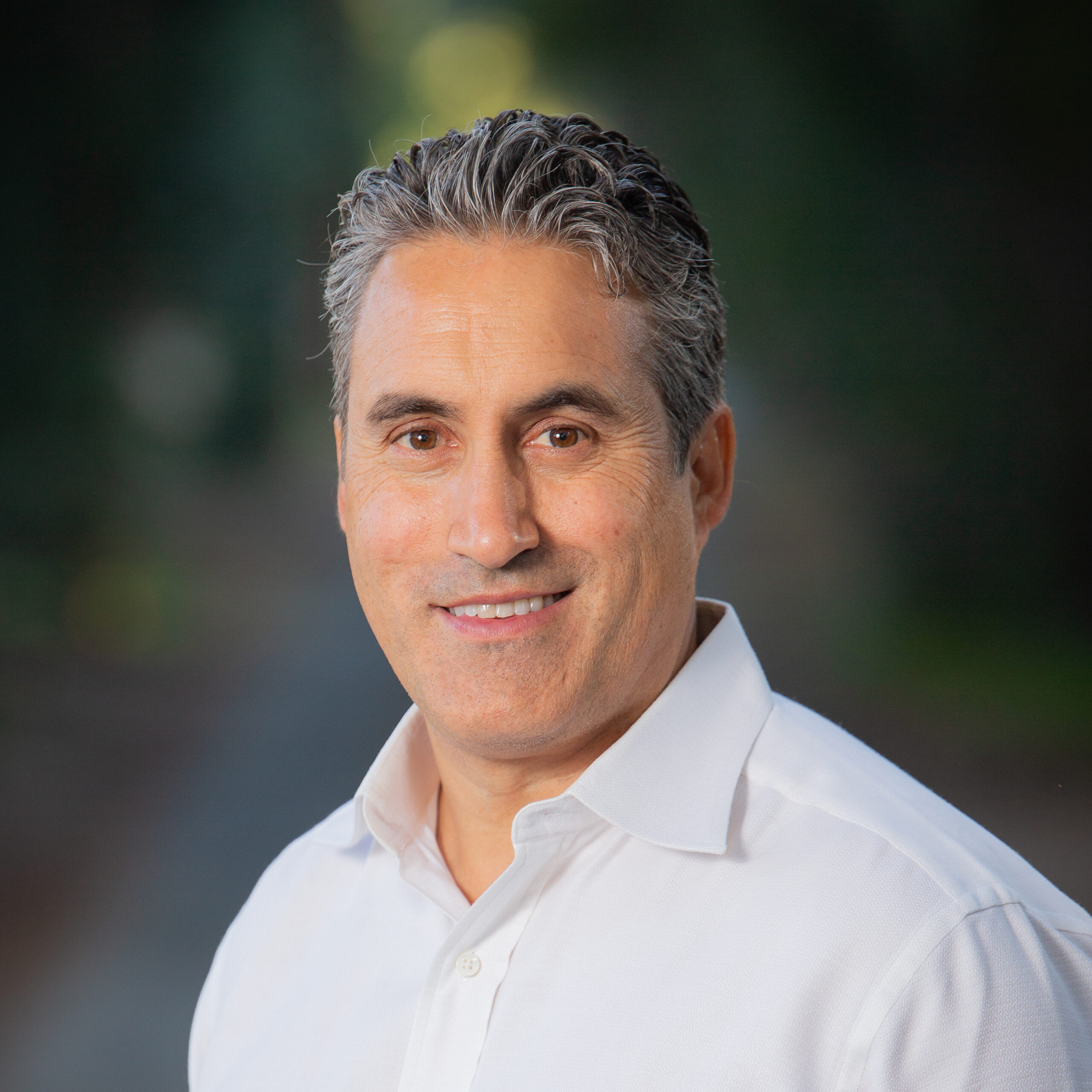 Santa Clara July 2022 Home Sales
| | | | | | | | |
| --- | --- | --- | --- | --- | --- | --- | --- |
| Street Address | List Price | Price | DOM | Beds Total | Bths | Sq Ft Total | Age |
| 1008 Teal Drive | $1,998,000 | $2,490,000 | 6 | 4 | 2|0 | 1,776 | 59 |
| 2452 Painted Rock Drive | $2,088,000 | $2,050,000 | 22 | 4 | 3|0 | 1,737 | 68 |
| 1476 Barbara Drive | $1,698,888 | $2,000,000 | 10 | 3 | 3|0 | 2,351 | 61 |
| 417 Los Padres Boulevard | $1,950,000 | $1,935,000 | 46 | 3 | 2|1 | 2,128 | 67 |
| 3190 Dorcich Street | $1,698,000 | $1,910,000 | 6 | 3 | 1|1 | 1,867 | 69 |
| 758 Valley Way | $1,895,000 | $1,875,000 | 20 | 4 | 2|0 | 1,651 | 62 |
| 686 Pomeroy Avenue | $1,799,000 | $1,850,000 | 10 | 3 | 2|0 | 1,462 | 61 |
| 2081 Rockhurst Court | $1,899,000 | $1,850,000 | 6 | 3 | 2|0 | 1,302 | 65 |
| 3071 Mark Avenue | $1,788,000 | $1,841,000 | 8 | 3 | 2|0 | 1,512 | 64 |
| 3038 Via Siena Pl | $1,880,000 | $1,838,000 | 27 | 3 | 2|1 | 1,762 | 7 |
| 1285 Maryann Drive | $1,795,000 | $1,808,000 | 14 | 4 | 2|0 | 2,027 | 64 |
| 3519 Earl Drive | $1,549,000 | $1,750,000 | 14 | 3 | 2|0 | 1,240 | 66 |
| 4363 Laird Circle | $1,599,000 | $1,750,000 | 11 | 3 | 3|0 | 1,590 | 17 |
| 1690 Cunningham Street | $1,725,000 | $1,745,000 | 8 | 3 | 2|0 | 1,504 | 71 |
| 2630 Webster Court | $1,499,000 | $1,670,000 | 7 | 3 | 2|0 | 1,446 | 66 |
| 2288 Bray Avenue | $1,698,000 | $1,670,000 | 63 | 3 | 2|0 | 1,743 | 72 |
| 636 Barto Street | $1,750,000 | $1,650,000 | 32 | 4 | 2|0 | 1,092 | 69 |
| 2000 Briarwood | $1,699,000 | $1,630,000 | 14 | 3 | 2|0 | 1,212 | 68 |
| 837 Hilmar Street | $1,599,999 | $1,600,000 | 18 | 3 | 2|0 | 1,544 | 74 |
| 2632 Tartan Drive | $1,488,000 | $1,500,000 | 0 | 3 | 2|0 | 1,207 | 62 |
| 2187 Bray Avenue | $1,530,000 | $1,475,000 | 56 | 4 | 2|0 | 1,639 | 71 |
| 3358 Agate Drive | $1,399,000 | $1,450,000 | 7 | 4 | 2|0 | 1,095 | 62 |
| 2237 Santa Cruz Avenue | $1,499,000 | $1,450,000 | 33 | 3 | 2|0 | 1,078 | 67 |
| 1762 Cunningham Street | $1,298,000 | $1,449,000 | 9 | 3 | 1|0 | 1,021 | 71 |
| 2192 Hunter Place | $1,468,000 | $1,400,000 | 22 | 3 | 2|1 | 1,796 | 25 |
| 981 Live Oak Drive | $1,499,950 | $1,400,000 | 20 | 3 | 2|0 | 1,496 | 59 |
| 2162 San Rafael Avenue | $1,549,000 | $1,390,000 | 40 | 3 | 2|0 | 1,638 | 67 |
| 2900 Miles Drive | $1,350,000 | $1,335,000 | 20 | 4 | 2|0 | 1,584 | 55 |
| 48 Linden Drive | $1,298,880 | $1,320,000 | 6 | 3 | 2|0 | 1,332 | 74 |
| 3167 San Juan Ave | $1,449,888 | $1,285,000 | 30 | 4 | 2|0 | 1,500 | 64 |
| 1826 Park Vista Circle | $1,299,000 | $1,275,000 | 32 | 3 | 2|1 | 1,670 | 33 |
| 2324 Talia Avenue | $1,298,000 | $1,215,000 | 0 | 3 | 1|0 | 1,035 | 69 |
| 2475 Painted Rock Drive | $999,950 | $1,160,000 | 7 | 3 | 1|0 | 897 | 68 |
| 762 Viader Court | $1,160,000 | $1,160,000 | 0 | 3 | 1|0 | 1,489 | 75 |
| 599 Oakwood Drive | $1,050,000 | $1,050,000 | 0 | 3 | 2|0 | 1,008 | 57 |
| 948 Civic Center Drive | $849,950 | $965,000 | 8 | 2 | 1|1 | 697 | 68 |
Santa Clara Housing Market Archive