November Santa Clara Home Sales Recap
The Santa Clara housing market in November experienced 21 single-family homes that closed escrow, which is 14 less than closed escrow in the previous month of October.  For some more perspective, last year there were 53 homes sold in November.
The average price of a home sold in November was $1.77M which is about $210K higher than the previous month's figure of $1.56M. The median price home sold was $1.7M, about $270K higher than the median price in October.
The average cost per square foot saw a slight increase from $1143 per Sq. Ft. to $1150 per Sq. Ft. Of all the 21 homes sold in November, 14 homes sold over the list price.
On average homes that sold did so at 4.47% over asking compared to 1.75% over asking in the previous month.
We started the month of November with 43 active single-family home listings and finished with 43 active single-family homes for sale in all of Santa Clara.
For a list of sold homes in November click here or scroll down to the bottom of the page.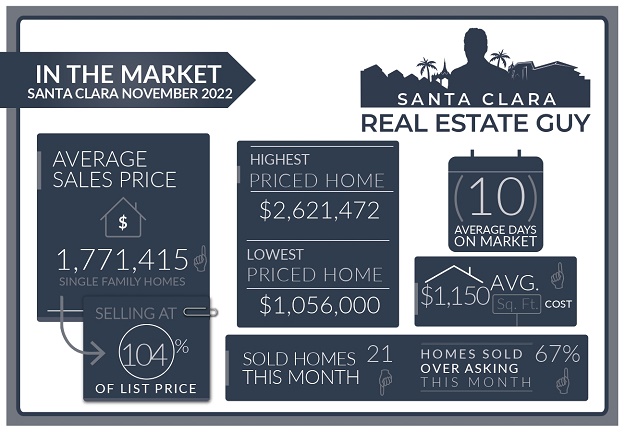 Market Continues to Slow
Home sales dropped significantly last month from the previous month.
This is fairly typical as we are heading into the major holiday months.  However, one significant different is the year over year change, which indicated that this year there was a about 70% decrease in homes sold in the month of November 2022 vs. 2021.
We are noticing less transactions versus last year.   This indicates to me that sellers are choosing to hold off on listing their homes, possibly hoping that the economy bounces back quicker or willing to wait for prices to increase.
Either way, less transactions generally indicates not many homes on the market and that is the case right now in our local market where there are around 20-25 homes listed.
Altos Research Market Data For Santa Clara
Home Inventory is Dropping
We started November with around 43 homes on the market and finished with 43.  Typically we see a decrease in inventory this time of year but inventory held fairly steady.
At the beginning of November there were a number of homes sitting on the market, but as of today the day after Christmas there are roughly about 20-25 homes listed.
A majority of which have been sitting on the market for some time.
Due to the holidays I don't expect this number to increase until the beginning of 2023 and this will be the real test of the market, will inventory overwhelm demand or will demand keep up with inventory.
Santa Clara Market Reports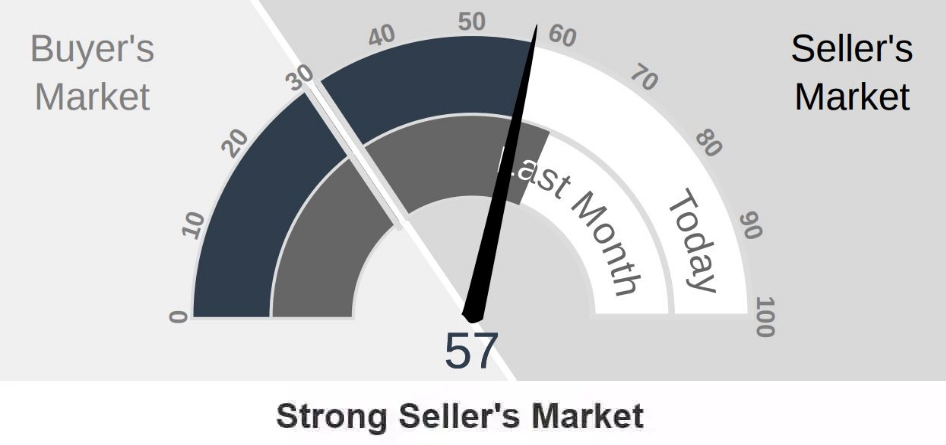 The Altos Research Market Action Index for single-family homes in Santa Clara has decreased to 57 from 63 where it was last month. For more detailed reports on Santa Clara and Santa Clara Zip codes, you can access the reports here.
Home Values
Home values have been holding up fairly well.
I generally cover single family homes mainly in this post, but condos and townhomes have been preforming rather well lately and that comes as a big surprise to me.  
Generally the townhome and condo market lags the single family home market.  Some are attributing the performance to a preference among buyers to buy more affordable properties rather than stretch themselves to purchase a single-family home. 
That is a new shift in our market, where home buyers are typically preferring single-family homes and the condo townhome market is lagging.
One reason prices could be holding up so well is the limited inventory due to the season.  Depending on how inventory of homes for sale increases next year, we could see a further weakening of home values.
Other Factors in the Market:
In their latest meeting the FED increased rates another .50 points, which came as a relief to many.
Mortgage rates were relatively unaffected and are still hovering in the mid to low 6% range.  Many predict that rates will not go above 7%.
There are many forces at play here.  A lackluster stock market is causing many to prefer bonds pushing down yeilds and rates.  Also the FED is destroying money at the rate of close to $100B tightening money supply. 
Below is a table of rates on a national level.   Some of our local lenders are able to lock in rates for Jumbo loans with 5 or 7 years fixed in the mid 5% range.  This depends on credit scores and other factors.

The stock market indices have been treading downward in recent weeks with the tech sector being affected hard.
The last few sessions have seen a strong rally in the Nasdaq that was sparked by inflation data which has been encouraging. 
Home buyers in our local market rely on tech stocks for their down payment and for their loan qualifications.  The impact on stock values affects home buyer affordability and purchasing power.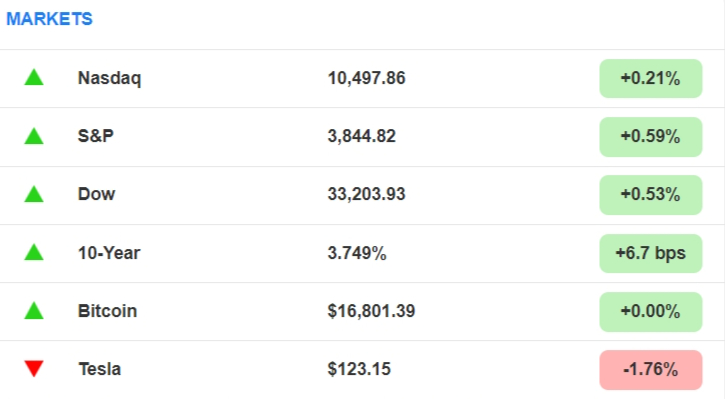 More talk about layoffs in the valleys tech companies continues to be a major topic.  You can follow the number of layoffs and what firms have been affected on the San Francisco Chronicle webpage.
There is a quite a bit of uncertainty about the length and severity of this downturn.  Since we have not experienced a downturn since the 2008-2009 economic crisis many are not sure what to expect.
Save thousands when you sell.
Includes Free Staging and Our Complete Selling Solution
* Total commission 4% including buyer side agent commission of 2.5%, offer varies by value of home.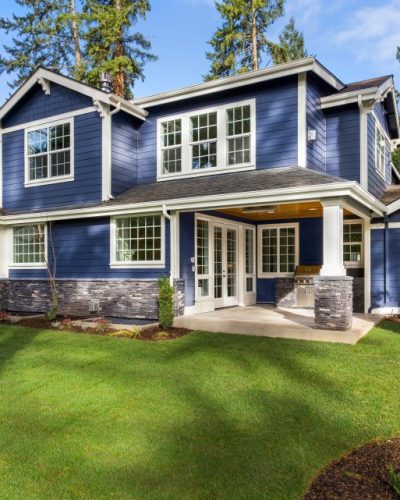 Predictions for 2023
Buyers, is it a great time to buy?
Well, it depends. If your job is secure, and you are not worried about the market softening a bit further now is a very good time.
If you are actively looking right now you are still noticing multiple offer situations on some listings.
Mortgage rates may not go up much further, and I really don't see home values dropping significantly in the next few months.
As of right now inventory is low, but that is likely to change come 2023.
If Youtube Gurus have you thinking the market may crash I would instead look at the facts.
Most homeowners are sitting on lots of equity and those who may have purchased in the last few years although they may have lost some equity with the recent price drops, are benefiting from very low-interest rates.
With affordability dropping as interest rates increase and stock values decline, expect to see further softening in home values but no significant drops.
This doesn't mean you can't get a good deal out there. Will there be foreclosures, yes. There are always some in a market downturn.
With that said do I expect prices to go up next year? The answer is no.
In order for prices to go up we would have to have a substantial shift in affordability and confidence and in our current economic situation that is just not likely.
Instead, the likely scenario will be fewer sales and fewer properties available for purchase. Expect prices to be soft , with desirable properties standing out and continuing to get the attention of buyers and multiple offers.
Prices will certainly be more attractive then previous markets and the competition less severe.
So for those of you who have been waiting to buy or move, and have job security, 2023 could be a blessing.
Sellers, homes are selling and buyers are looking.
Although affordability has taken a significant drop, home values have held up and are around their Spring 2021 values.
As we move into 2023, expect inventory to increase and home values to soften and drop as more inventory becomes available and sellers get more anxious to move.
Understand that at some point the FED will abandon its current plan, but no one knows when that will happen and the effects will not result in instant price increases. We are likely to have lots of inventory of homes to go through before the market tightens up and prices start to move up.
As a seller, you have to weigh the risks and advantages of this market. If you are thinking of trading up or down, this market is a great opportunity.
Those in this predicament will be able to make that transition easier with contingent offers, flexible terms, and lower prices which means lower capital gains on the sale and lower property taxes.
There are lots of reasons why selling and buying in this market makes sense.
Instead of offering general suggestions here, I would encourage sellers who have questions and concerns about selling in this market to reach out to me.
Understanding your specific situation helps in determining how this market will affect you and your options. I offer free consultations to buyers and sellers to discuss their needs, so please reach out, I am happy to
Conclusion:
As always, whether you are buying or selling, understanding the current market will set you up for success.  As I mentioned above some homes are doing quite well in this market.  
Understand that the housing stock of Santa Clara is very diverse and can vary greatly from one neighborhood to the next.  
Developing the right strategy for you, whether you are buying a home or thinking of selling your current home is important to succeeding in this market.   
If you have any questions about a home on the market or your home's value, please feel free to reach out, I am happy to meet and help you understand your options.
Have a question? Interested in setting an appointment to talk about your real estate plans?  Contact me today.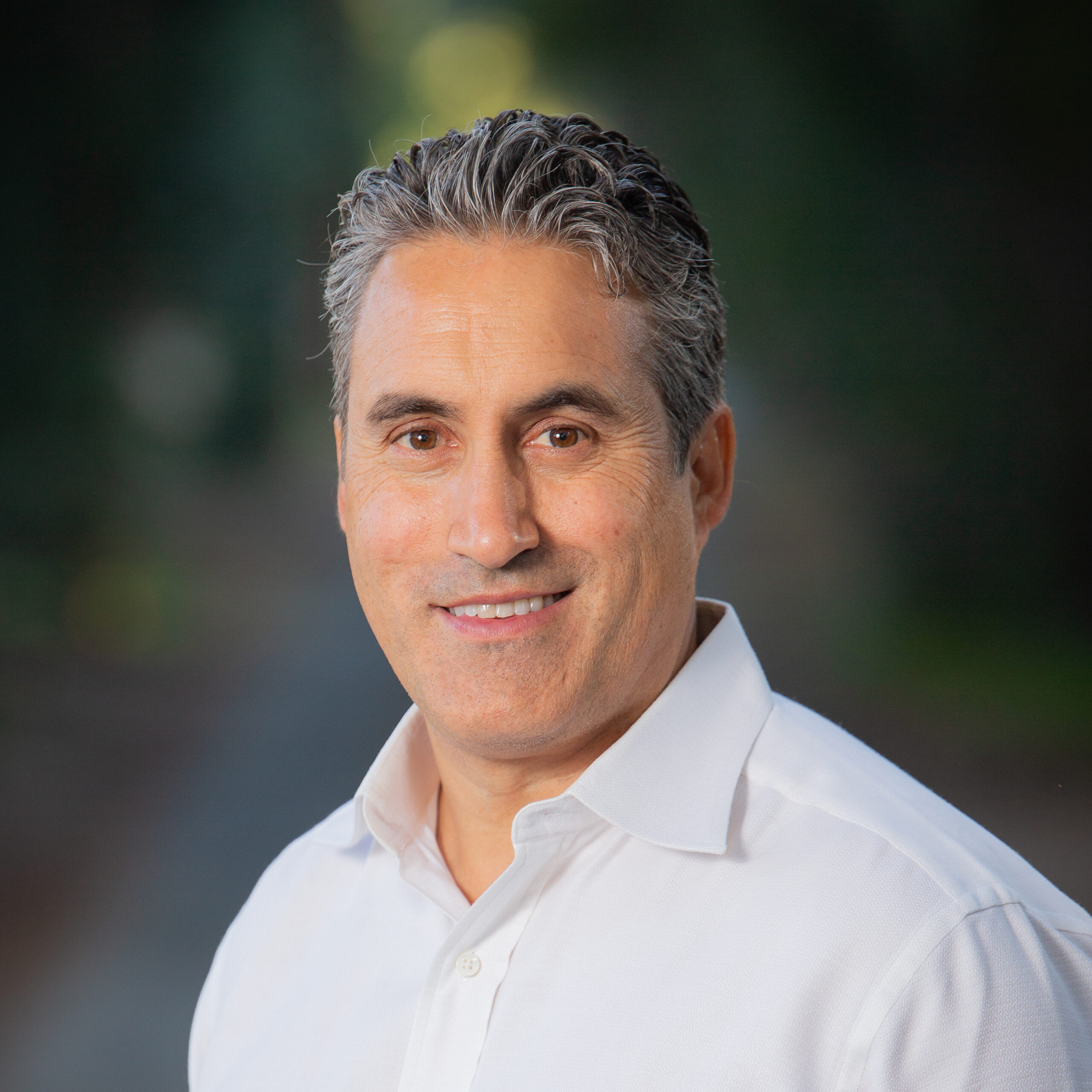 Santa Clara November 2022 Home Sales
| | | | | | | | |
| --- | --- | --- | --- | --- | --- | --- | --- |
| Street Address | List Price | Price | DOM | Beds Total | Bths | Sq Ft Total | Age |
| 2816 Mesquite Drive | $2,798,000 | $2,621,472 | 15 | 3 | 2|0 | 1,992 | 47 |
| 3554 Mauricia Avenue | $2,198,000 | $2,430,000 | 8 | 4 | 3|0 | 1,999 | 63 |
| 1957 Worthington Circle | $2,299,000 | $2,270,000 | 5 | 4 | 2|1 | 2,717 | 9 |
| 148 Kellogg Way | $1,899,000 | $2,160,000 | 4 | 3 | 2|0 | 1,388 | 64 |
| 113 Cronin Drive | $1,750,000 | $2,063,000 | 7 | 3 | 3|0 | 1,988 | 64 |
| 2908 Barkley Avenue | $1,888,000 | $1,979,250 | 13 | 3 | 2|0 | 1,702 | 64 |
| 3355 Mckinley Drive | $1,688,888 | $1,800,000 | 21 | 3 | 2|0 | 1,395 | 67 |
| 3013 Alexander Avenue | $1,799,000 | $1,780,000 | 1 | 3 | 1|1 | 1,500 | 67 |
| 3491 Shafer Drive | $1,689,999 | $1,750,000 | 9 | 3 | 2|0 | 1,504 | 68 |
| 3454 Machado Avenue | $1,620,000 | $1,700,000 | 4 | 3 | 2|0 | 1,248 | 66 |
| 202 Kerry Drive | $1,779,000 | $1,700,000 | 11 | 3 | 2|0 | 1,234 | 67 |
| 674 Cupples Court | $1,799,000 | $1,685,000 | 27 | 4 | 2|1 | 1,565 | 67 |
| 646 Bucher Avenue | $1,698,000 | $1,665,000 | 21 | 3 | 2|0 | 1,518 | 68 |
| 3470 Flora Vista Avenue | $1,499,000 | $1,650,000 | 7 | 3 | 2|0 | 1,462 | 68 |
| 1212 Los Padres Boulevard | $1,529,000 | $1,600,000 | 7 | 3 | 2|1 | 1,761 | 68 |
| 2242 Cabrillo Avenue | $1,498,000 | $1,570,000 | 7 | 3 | 2|0 | 1,212 | 68 |
| 2661 Benton Street | $1,680,000 | $1,555,000 | 26 | 4 | 2|0 | 1,729 | 67 |
| 2472 Painted Rock Drive | $1,350,000 | $1,500,000 | 5 | 3 | 2|0 | 1,257 | 68 |
| 2174 Monterey Avenue | $1,349,000 | $1,415,000 | 6 | 3 | 2|0 | 1,078 | 67 |
| 2182 Cabrillo Avenue | $999,999 | $1,250,000 | 6 | 3 | 2|0 | 1,181 | 68 |
| 426 Greenwood Drive | $1,056,000 | $1,056,000 | 2 | 4 | 2|0 | 1,565 | 54 |
Santa Clara Housing Market Archive