2019 September home sales in Santa Clara consisted of 44 single-family homes that closed escrow, a slight increase from the 43 homes sold in August.  Average days on market increased to 34 days from 29 days, and median days increased to 17 from 15. The average price of a home sold in September 2019 was $1.24M which is about $130K lower than last month's figure of $1.37M.
The Median price home sold was $1.24M, which is about $60K lower than August's median price. The average cost per square foot increased from $827 per sqft. to $912. Of the 44 homes sold in August, 17 sold over asking. On average homes sold -1% under asking compared to +0.8% over asking in the previous month.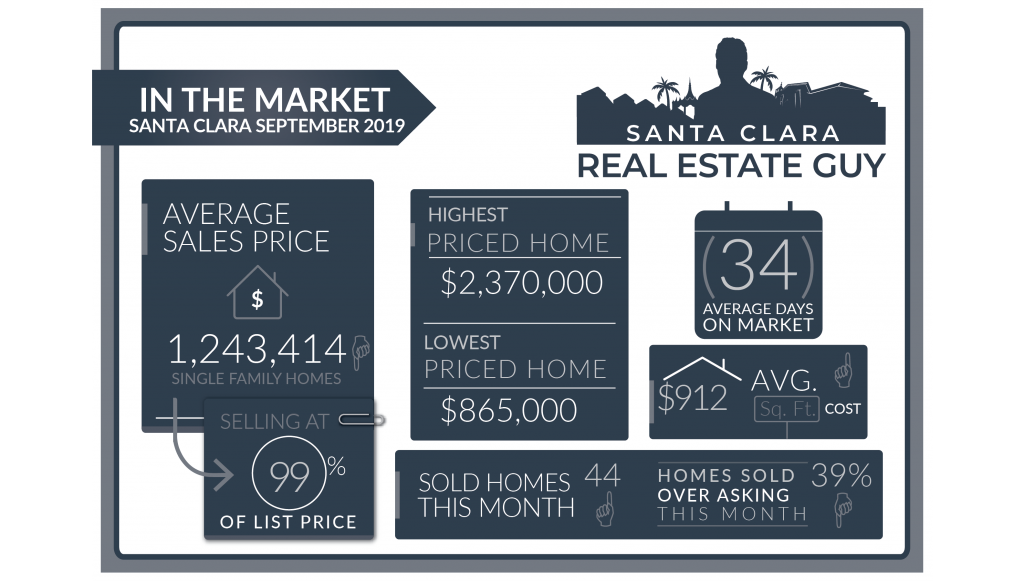 We are experiencing an interesting market. Inventory has dropped and sales have dropped, interest rates are also very low, but prices continue to settle lower. Our current market is demonstrating that buyers are being very patient in their home-buying decisions, and motivated sellers are dropping their prices to entice offers
September was the first month a number of years that homes sold on average less than their list price.  The Summer market we just experienced was exceptionally slow.  When September hit we noticed that inventory increased slightly but then started to fall later in the month.
In late September we started to see homes that had been sitting on the market finally get into contract.  What we were experiencing in late September and in the current month of October is a tightening of the market.  Where inventory is dropping, in this case due to heightened buying activity and slower listing activity.
With the FED worried about the economic slow down they have started to lower rates and that has contributed to a hotter market.  Although the last few months we had experienced dropping home values, I expect the market to stabilize and even price increases as we move into the holidays.
Santa Clara Home Sales September 2019
Check out your home's current value online, quick and free with our new Santa Clara Home Valuation Tool.
Get a Detailed Report with all the Sales in your Neighborhood.
To Sign up for Free Market Reports: