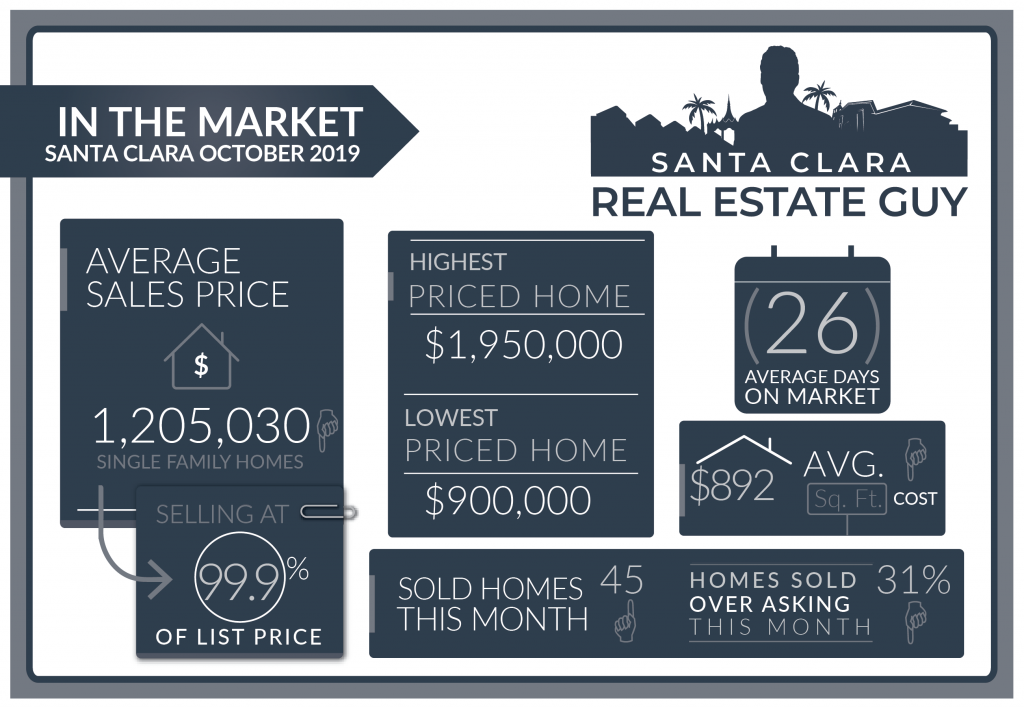 2019 October home sales in Santa Clara consisted of 45 single-family homes that closed escrow, a slight increase from the 44 homes sold in September.  Average days on market decreased to 26 days from 34 days, and median days decreased to 16 from 17. The average price of a home sold in October 2019 was $1.2M which is about $40K lower than last month's figure of $1.24M.
The Median price home sold was $1.2M, which is about $40K lower than September's median price. The average cost per square foot decreased from $912 per sqft. to $892. Of the 45 homes sold in October, 14 sold over asking. On average homes sold -0.1% under asking compared to -1% under asking in the previous month.
We started the month of October with 45 active listings and finished with 40 active listings.  There were 53 new listings that came on in October, and 56 homes that entered into contract.
We are experiencing an interesting market. Inventory has dropped and sales have dropped, interest rates are also very low, but prices continue to settle lower. Our current market is demonstrating that buyers are being very patient in their home-buying decisions, and motivated sellers are dropping their prices to entice o
As we enter into the holiday season the seasonal shift of fewer homes coming on the market.  When home inventory drops in our market we start to see homes selling faster and home prices increasing as the instances of multiple offers on homes become more frequent.  This coupled with lower interest rates is positioning the market to go up in the next few months.
Not all buyers may not yet be adjusting to this, after all, they have been hearing from their agents and news outlets that the market has been dropping.  So buyer attitudes may be that they don't feel rushed and are still being picky about their home purchase.
We are noticing homes selling faster now, not all homes, but desirable homes that are priced right are getting most if not all the attention.  Meanwhile, other homes may be sitting on the market.  While this trend of lower inventory continues buyers will start to notice home prices increasing and it may motivate them to buy a home soon.
Keep in mind that the economic situation can be volatile.  There are still concerns about the ongoing trade war with China and that situation could escalate and disrupt buyer attitudes.
Santa Clara Home Sales October 2019
Check out your home's current value online, quick and free with our new Santa Clara Home Valuation Tool.
Get a Detailed Report with all the Sales in your Neighborhood.
To Sign up for Free Market Reports: